Imam Ali Khamenei
Iran
Leaders of Ummah
North America
Leader Plays Down US Decision to Block Iran Oil Exports, Says Hostile Move Not to Remain Unanswered
Supreme Leader of the Islamic Ummah and Oppressed Imam Ayatollah Seyed Ali Khamenei said the US move to end sanctions exemptions for major importers of Iran's oil supplies may not leave a major impact on the country's crude exports, but meantime, vowed that Washington should wait for Tehran's response.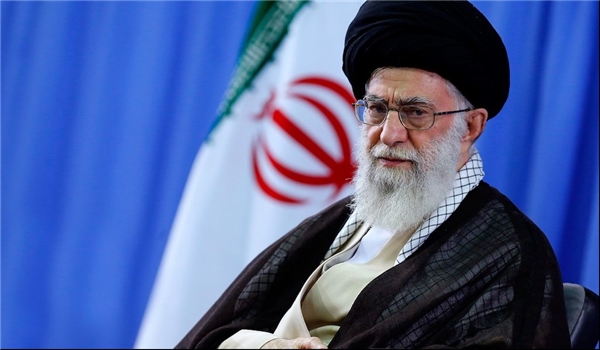 Imam Ayatollah Khamenei slammed the US measure to end waivers on Iran oil sanctions, and said, "Firstly, their efforts won't get them anywhere. We will export our oil as much as we need to and we intend to. They have wishfully blocked the way for us, but the vigorous nation and vigilant officials — if they work hard and with determination — will open many blockades."
The Leader made the remarks in Tehran on Wednesday, addressing a large gathering of Iranian workers on the occasion of the National Week of Labor and Laborers.
He also warned the US that their hostile measures will be countered, and stressed, "Secondly, they should know that this hostile measure will not be left without a reaction; they will receive the response to their animosity. The Iranian nation is not a nation that would sit idle in the face of hostilities."
The Leader regarded the sanctions as yet another opportunity for Iran to reform its oil sales policies, and stated, "Thirdly, the less we rely on this form of selling our oil, the more will we be appreciative (of our oil reserves), and it is better for us."
Ayatollah Khamenei referred to the failure of enemies of the Islamic Republic in their hostile measures against the Iranian nation, and said, "The enemy has repeatedly taken measures — all in vain — against our great nation, Revolution and the Islamic Republic that have voiced support for justice across the world, thus fascinating other nations. Now the enemy engages in different hostile measures regarding economic issues and they say they seek to bring the Iranian nation to their knees. However, they must know that the Iranian nation will not give in and will not be brought to their knees before enemies."
In relevant remarks earlier today, Chief of Staff of the Iranian Armed Forces Major General Mohammad Baqeri downplayed the impacts of the US decision to end waivers on Iran's oil sanctions, warning that Washington would pay the price for its hostilities.
"Declaring the end of waivers for Iran's oil clients shows enemy's anger of the Islamic Republic," General Baqeri said in Tehran on Wednesday.
He underlined the Iranian nation's capability to manage the country with any amount of crude sales, but meantime, said the situation could serve as a good opportunity to cut off dependence on oil revenues.
"Of course, the US will pay the price for its enmities when the time is ripe," General Baqeri said.
The White House said on Monday waivers for China, India, Japan, South Korea and Turkey would expire in May, after which they could face US sanctions themselves.
After the decision, Ritterbusch and Associates, an oil trading advisory firm, announced that "a complete elimination of Iranian exports is nearly impossible and that a reduction beyond current levels will likely prove limited", as the United States announced all Iran sanction waivers would end by May, pressuring importers to stop buying from Tehran.
It stated that the overall effect "will hinge to a large degree on the Saudis' response to what is likely to be some strong requests from the administration of US President Donald Trump to increase productions appreciably".
Some analysts believe that ending the waivers was expected to hit Asian buyers, including China and India, the hardest.
The United States on Monday demanded that buyers of Iranian oil stop purchases by May or face sanctions, ending six months of waivers which allowed Iran's eight biggest buyers, most of them in Asia, to continue importing limited volumes.
Peter Kiernan, an energy analyst at the Economist Intelligence Unit (EIU) said "a severe loss in (Iranian) volumes will put pressure on the supply side, given the political uncertainty currently blighting other oil exporters, such as Venezuela and Libya".
Kim Jae-kyung of the Korean Energy Economics Institute stated that the move "will be a problem if South Korea can't bring in cheap Iranian condensate (for) South Korean petrochemical makers".
Takayuki Nogami, a chief economist at Japan Oil, Gas and Metals National Corporation (JOGMEC), said ending the waivers was "not a good policy for Trump", adding that he expected oil prices to rise further because of US sanctions and OPEC-led supply cuts.
Barclay's bank underlined following the announcement that the decision took many market participants by surprise and that the move would "lead to a significant tightening of oil markets".
"The current waivers expire on May and the decision is likely to worsen the ongoing supply woes being felt with Venezuelan sanctions, the OPEC supply cut, and intensifying conflict in Libya," ANZ analysts commented on Tuesday.
Analysts at ING cautioned that higher oil prices were "negative for Asian currencies and government bonds", as energy stocks across major Asian bourses posted strong gains in morning trading on Tuesday.
Suzanne Maloney, deputy director at Brookings Foreign Policy, believes that Washington wants to deal "a death blow" to Tehran, but such a move risks destabilizing the Middle East.
On Monday, the White House claimed that the US, Saudi Arabia and the United Arab Emirates would take action "to assure that global demand is met as all Iranian oil is removed from the market", while market analysts express deep doubt if the trio could make up for a loss of Iran's market share.
Ellen Wald, non-resident senior fellow at the Global Energy Center of the Atlantic Council, stressed that the United States "seem to expect" Saudi Arabia and the United Arab Emirates to replace the Iranian oil, but she added that "this is not necessarily the way Saudi Arabia sees it".
Analyst Stephen Innes stated that the Trump administration's "not so invisible hand" is pushing the oil price higher, arguing that the White House wants to pick a fight with Iran ahead of next year's elections.