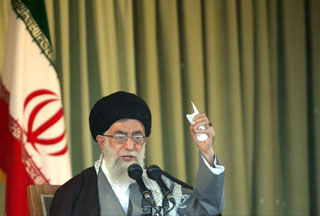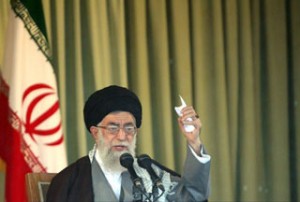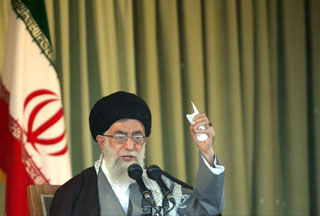 The Leader of the Islamic Revolution warns against the enemy's plots to downplay the high turnout of the Iranian nation in the June presidential election.
"The enemy started to throw mud and spread rumors in order to undermine and downplay this big political victory," said Ayatollah Seyyed Ali Khamenei in an address to crowds of people in the northern Iranian city of Chalous on Wednesday.
"The enemy caused unrest in a part of the country. We see that it is worried about the 85 percent participation of the Iranian nation in the presidential election," the Leader added.
Ayatollah Khamenei said that the proponents of the Islamic Republic in Lebanon, Pakistan, Afghanistan and other countries as well as all committed Muslims have expressed their concern about the enemy's plots to destabilize the country.
"That means that the Islamic thought is still alive across the Muslim world," the Leader said.
Ayatollah Khamenei stressed the importance of remaining vigilant to thwart plots against the Islamic Republic and advised all Iranian citizens to not let enemies influence them in the guise of friends.
The Leader said that world dictators are enemies of the Iranian nation, adding, "Iran's foes are angry with progress and development of the nation."
Ayatollah Khamenei arrived in the northern province of Mazandaran on Tuesday for a two-day visit.