Imam Ali Khamenei
Iran
Leaders of Ummah
Middle East
Leader's message stresses strategic nature of Iran's ties with Russia: Iran Parliament speaker
Iran's Parliament speaker says the message sent by Leader of the Islamic Ummah Ayatollah Seyyed Ali Khamenei to Russian President Vladimir Putin stresses the strategic and strong nature of ties between Tehran and Moscow.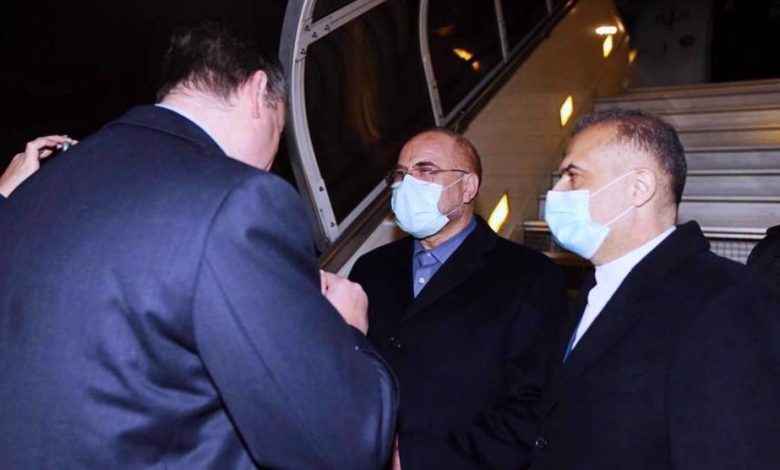 Mohammad Baqer Qalibaf, who had emphasized before starting his three-day Moscow visit that he is carrying an important message from Ayatollah Khamenei to Putin, made the remarks while speaking in a joint press conference with Chairman of the State Duma Vyacheslav Viktorovich Volodin on Monday.
"The most important part of this visit was [conveying] the Leader of the Islamic Revolution's message to Mr. Putin, the president of Russia, in which emphasis has been put on strong and strategic nature of relations between Iran and Russia so that no political change in the world and unilateral approaches can affect those relations," he told reporters.
Qalibaf said Iran and Russia enjoy numerous commonalities on a host of issues like regional developments and the necessity to promote peace in the region, which calls for the adoption of new decisions and creation of new mechanisms.
"Tehran and Moscow have also common stances on regional and global security and peace as well as the fight against the cruel sanctions [imposed by the West] against the two countries," the top Iranian parliamentarian added.
In talks with the State Duma chairman, it was agreed that the third session of the joint high commission of the Iranian and Russian parliaments would be held in Tehran within the next few months, he noted and said a trade and economic exhibition attended by the two countries' businessmen would also be held at the same time.
Duma chairman: US openly in trade war with Russia, Iran
The chairman of Russia's State Duma, for his part, said both Iran and Russia are currently facing a relentless trade war waged against them by the United States through imposition of sanctions.
Stressing that Iran-Russia relations are of special historical importance, Volodin said, "We and Iran are fighting a joint battle against sanctions, trade wars and double standards, which has been waged not only against us, but also against China and North Korea."
He added that the US has waged trade wars against Iran and Russia either openly or under the pretext of protecting European markets.
Pointing to efforts by certain countries to prevent the dispatch of medical and health assistance to people in other states, he said the US and the European Union are making efforts to advance their own COVID-19 vaccines and are hindering progress of others in this regard while the effectiveness of their medicines and vaccines has not been proven yet.
He reiterated his country's willingness to develop new frameworks with the purpose of prompting relations with Iran, and said the coronavirus pandemic has altered previous structures in the world and therefore Tehran and Moscow need to find new frameworks to expand their ties.
The State Duma chairman emphasized that his talks with the top Iranian parliamentarian were aimed at achieving tangible results to strengthen cooperation in the fields of energy, agriculture and transportation, adding that both sides should also boost trade and economic ties and implement new joint ventures.