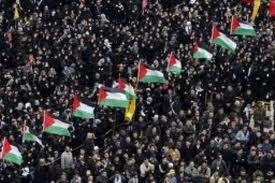 Hundreds of thousands of Lebanese poured onto the streets of the capital Beirut to mark the day of Ashura, the tenth day of the month of Muharram. The head of Hezbollah Sayyed Hassan Nasrallah made a rare appearance among the crowds with Israeli warplanes hovering in the skies.
Sayyed Nasrallah's surprise presence among the crowds have revived the passion that people have for Ashura which they believe has been manifested by Hezbollah.
Nasrallah gave a speech, underlining Hezbollah's strategy inside and outside Lebanon. He sent firm messages to domestic and foreign enemies.
The head of Hezbollah stressed that following the defeat of US policy in the region, the US and Israel were in the process of reviving their aspirations.
And it was not only Hezbollah's supporters and the Lebanese shia community which took part in this event. Even foreigner observers who came to Lebanon, showed up to experience the mourning rituals of the Ashura.
The younger generation in Lebanon seems to be increasingly educated on the essence of Ashura as not merely a time of grievance, but a day symbolizing the humanity's struggle against tyranny.
Muslims all over the world remember the martyrdom of Imam Hussein along with 72 of his companions in Karbala; it's an event which has inspired humanity for centuries.