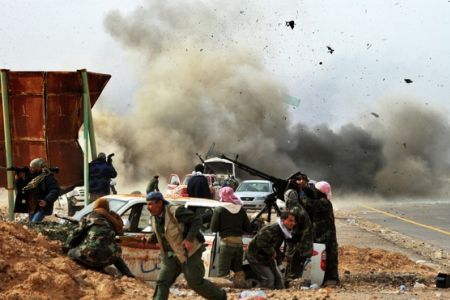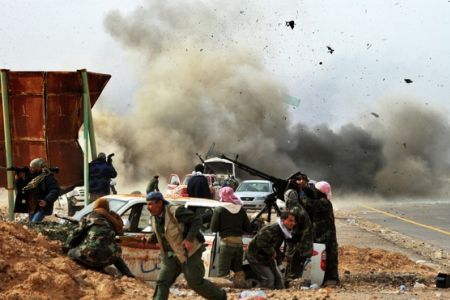 Employees at the main hospital in Libya's northern city of Ras Lanuf have evacuated the medical center following an air strike launched against it by pro-Gaddafi forces that injured over 17 people.
On Thursday, Libyan warplanes launched a blitz on revolutionary forces' positions in the oil port, maintaining a counteroffensive against opposition fighters in an effort to contain their advance toward the embattled Muammar Gaddafi's stronghold in the capital Tripoli.
The shells landed about 500 meters (0.3 mile) from the hospital in the center of the city, AFP reported. The blitz comes as Gaddafi's military has been making more use of its air power advantage to attack protesters.
Libyan forces loyal to Gaddafi closed in on revolutionary forces on Wednesday in the city of Zawiyah, located 50 kilometers (31 miles) west of Tripoli, and surrounded them with tanks and snipers in the main square.
Rising casualties, threats of starvation and a refugee crisis have mounted pressure on foreign governments to to adopt appropriate measure against the Gaddafi regime. Britain and France are seeking a UN resolution to authorize a no-fly zone over Libya's airspace to stop Gaddafi's air force from launching further air strikes against anti-government forces.
Meanwhile, US Secretary of State Hillary Clinton has asserted that such measures must only be taken by the United Nations.
Libyan anti-government forces, inspired by revolutions that toppled authoritarian rulers in neighboring Tunisia and Egypt, are fighting to drive Gaddafi out of power after more than 41 years of despotic rule.