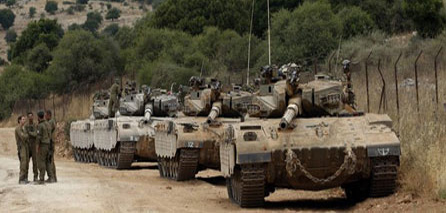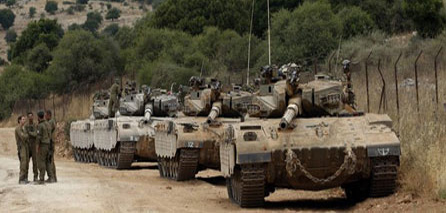 Several Zionist occupation tanks and military vehicles have conducted a limited incursion Tuesday morning , 09/11/2010, into Al Maghazi refugee camp east of central Gaza Strip.
According to our correspondent "Four Zionist bulldozers, two tanks and a troop carrier moved suddenly without reason from the Zionist military gate "Al Madrasa" into the Palestinian territories in Gaza.
The Zionist forces opened fire randomly at the Palestinian citizens' houses in the area. The Palestinian medical crews report no injuries.
Witnesses said that Zionist forces repeatedly conduct wide inspection operations in the invaded area.
Zionist occupation forces used to target Palestinian workers who collect gravels near borders, in addition to targeting Palestinian farmers and their houses.