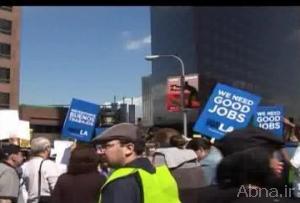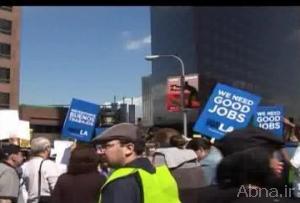 Over a thousand protesters rally in Los Angeles' financial district, targeting most of America's major banks in the largest demonstration seen in the major city since the "Occupy movement" began, Press TV reports.
Organizers said the protest turnout was considerably larger since labor unions and community groups also decided to join the cause to reform the finance system in America.
The "Occupy Los Angeles" protesters have been camping out since the first day of October to stand in solidarity with protesters at New York's Wall Street.
"The 99 percent of us who are struggling in this economy while the recession is over for those at the top are still dealing with foreclosures, bankruptcies and it needs to be fixed," a protestor told Press TV.
Some protesters have traveled hundreds of miles just to show support for the movement and express their frustration over the financial establishment in the US.
"It makes me realize that everyone everywhere is feeling these similar issues and they're angry. It shows that… it's the majority's opinion," another protester said.
Demonstrators say Americans are being united by a common objective of wanting to see banks pay their fair share of taxes.
They believe the Occupy movement will represent a crucial turning point in America's history, perhaps as important as "the sit-ins were to the civil rights movement," a demonstrator said.
Los Angeles police arrested several protesters on charges of trespassing for sitting down in the lobby of the Bank of America building.