Maduro Felicitates Iran on Anniversary of Victory of Islamic Revolution, Stresses Expansion of Ties
Venezuelan President Nicolas Maduro in a message to his Iranian counterpart Hassan Rouhani congratulated the 41st anniversary of the Islamic Revolution in Iran, and underlined the need for the further development of bilateral ties.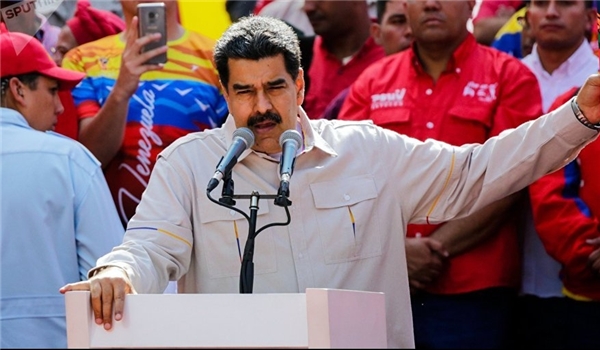 In a twitter message, Maduro stressed the fraternal relations between Tehran and Caracas.
He added that the path of strengthening ties and mutual respect will continue, noting that the path will help the two countries attain unified peace.
Maduro said that Iran and Venezuela have long had good relations in different fields and been under oppressive pressures by the US.
Led by the Founder of the Revolution, Imam Khomeini, Iranians confronted the forces of US-proxy Mohammad-Reza Pahlavi in late 1977 to end his oppressive, cruel and autocratic rule over the country.
By December 1978, millions of Iranians would take to the streets in protest against the policies of the Shah on a regular basis.
Grand Ayatollah Ruhollah Khomeini returned from exile to Iran to be received by millions of cheering crowds after the departure of the Shah in mid-January 1979. Two weeks later, the country saw the victory of the Islamic Revolution.
The final collapse of the Shah's regime came on February 11 when the military renounced its loyalty to the Shah and joined the revolutionary forces.
On this day 41 years ago, people took to the streets to celebrate the collapse of the Pahlavi Dynasty and the emergence of the new era.