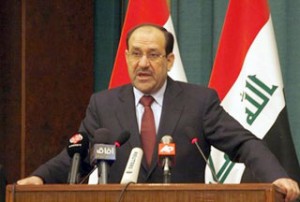 State of Law Coalition led by Iraqi Premier Nouri al-Maliki claimed an electoral fraud of 750,000 votes in five Iraqi provinces.
Due to instances of illegal voter registration, misleading or confusing ballot papers, and improper vote counting, the State of Law Coalition had asked Iraqi Supreme Court to look into the matter, the coalition's spokesman said.
Hachem Hasani added that according to internal rules and regulations of the Independent High Electoral Commission of Iraq (IHEC), the commission should not announce the final result if a four percent vote fraud was proven however it announced the results even though a 20 to 30 percent of fraud had been proven.
Meanwhile, Hussein Shahrestani, a member of the State of Law Coalition said while the coalition has submitted the evidence to the Supreme Court of Iraq, any decision by the court would be respected by all members.