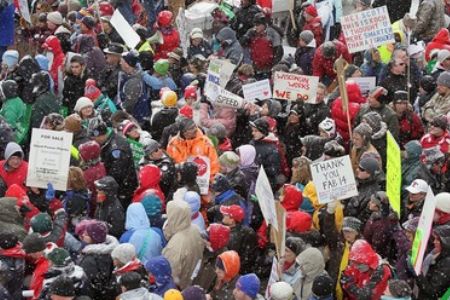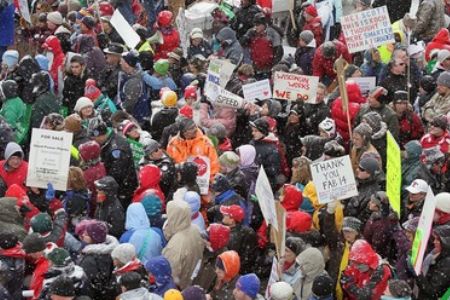 An estimated 70 to 100 thousand demonstrators rally outside the capitol building protesting the proposed Budget Repair bill on Feb. 26, 2011 in Madison, Wisconsin.
American demonstrators have rallied in cities across the country to protest a plan by Wisconsin governor to curb the power of public sector unions.
At least 70,000 demonstrators flooded the square around the Wisconsin Capitol on Saturday. Thousands more rallied in state capitals across the country as well as other cities, Reuters reported.
The demonstrations protested at the Wisconsin's State Assembly's approval of a budget measure on Friday. The measure, proposed by Republican Governor Scott Walker, strips public sector unions of most collective bargaining rights.
Under the controversial plan, the unions representing public workers would lose the right to bargain over health coverage, pensions and other benefits.
It would force a seven-percent pay cut of public sector workers, making them pay half the costs of their pensions and at least 12.6 percent of their health care coverage.
The plan now needs State Senate approval to go into effect, but fourteen senators fled the state last week to prevent a quorum in the Republican-majority Senate.
Other states which are looking to pass similar measures include Ohio, Tennessee, Idaho, Indiana, Iowa and Kansas.
Walker has received support from Americans for Prosperity, which was founded by David Koch and is aligned with the Tea Party movement. The organization reportedly donated USD 342,000 in advertising in support of Walker's effort.
However, American protesters strongly condemn the measures and view curbing their collective bargaining rights as unconstitutional.
"We all support the people in Wisconsin and all over the country where labor is being threatened, and we know that the real agenda of the [Wisconsin] governor and many others is just to destroy unions," one protester stated during a rally in New York.
Tens of thousands of public workers and supporters have converged in the capital, Madison, for almost two weeks in an attempt to stop the proposed measures.