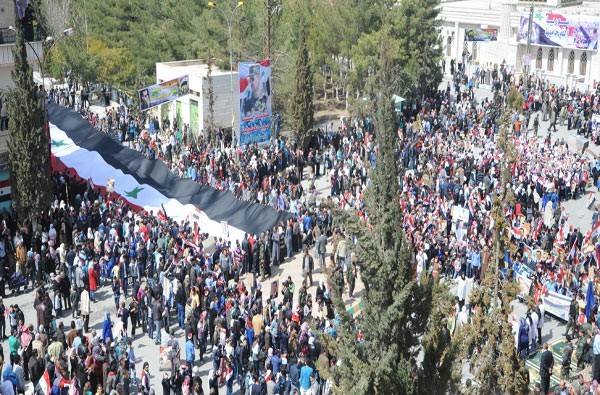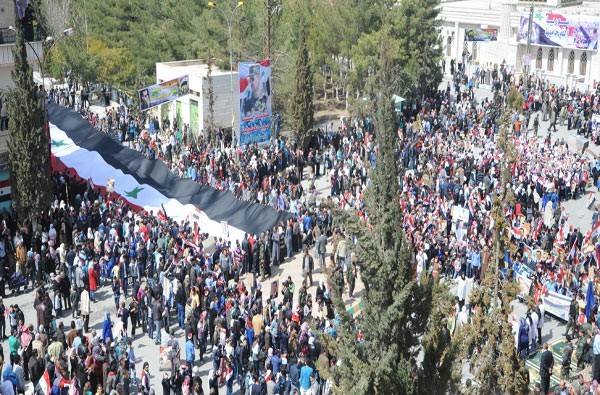 Damascus Countryside, (SANA) Thousands of citizens on Sunday took to the streets in Deir Atiyyeh city in support to the Syrian Arab Army in combating terrorism and in support of the national principles.
Syria will remain an invincible fortress against terrorism whose steadfastness never diminishes, the participants affirmed, indicating that only the ballot boxes will determine the future of the Syrian people.
Waving national flags and holding banners extolling national unity and rejecting foreign interference, they expressed staunch support to the Syrian army which is fighting terrorism and restoring security and stability to the homeland.
"This is the least we can do…What we're doing pales in comparison to the sacrifices of our valiant army," one of the participants said.
"I am ready to sacrifice my soul and the remainder of my years for my country," Um Ahmad, on a wheelchair, said.
Deir Attiyeh mayor, Mohammad Khair Milhem said the city of 24 thousand population has turned out in force to express joy over the achievements of the Syrian army in the war against terrorism.