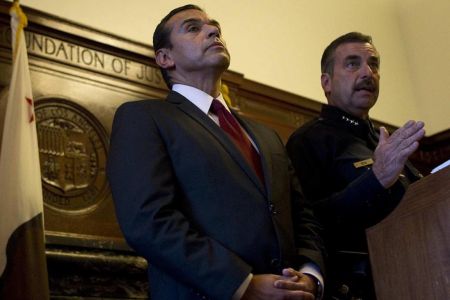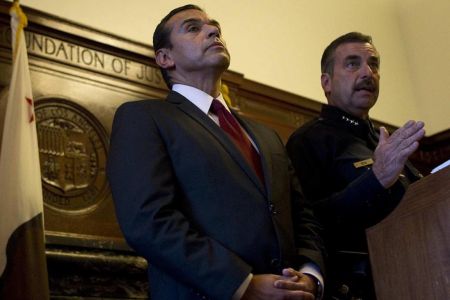 The mayor has issued a deadline for the Occupy Los Angeles protesters to pack up their camp in an attempt to fracture the occupation's 'round-the-clock presence.
On Friday, Mayor Antonio Villaraigosa told Occupy Los Angeles protesters to leave by 12:01 a.m. on Monday, or they will be evicted, AP reports.
"We're asking the participants in the Occupy LA encampment to pack their belongings and leave in an orderly manner," Villaraigosa said.
"It is time to close the park and repair the grounds so that we can restore public access to the park."
Protesters quickly rejected the demand, saying they will not leave their campsite which is made up of about 400 tents and 700 to 800 people, and situated in front of Los Angeles City Hall.
Los Angeles Occupiers have been protesting since October 1, 2011 – the movement being among the oldest and largest on the West Coast – taking a stance against the country's economic inequality and the excesses of the US financial system.
The group has turned the lawn surrounding City Hall into a mini-civilization, with a library, a meditation tent and more than a dozen committees responsible for planning civil disobedience actions, disseminating news to the media and running nightly general assembly meetings, the Los Angeles Times reports.
In California earlier this month, Oakland police officials were accused of using excessive brutality to evict protesters and to shut down the Occupy Oakland encampment, with former US Marine Scott Olsen being critically injured during the crackdown.
The Occupy movement emerged after a group of demonstrators gathered in New York's financial district on September 17 to protest the unjust distribution of wealth in the country and the excessive influence of big corporations on US policies.
Despite police harassment and mass arrests, the Occupy protests, which grew out of the OWS movement, have spread to many major US cities as well as to Australia, Britain, Germany, Italy, Spain, Ireland, Portugal and other countries.