Syria
Militants Infiltrating Safe Areas in Aleppo Confronted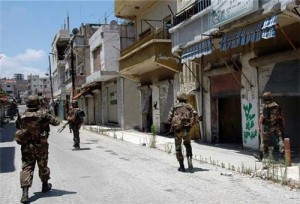 Units of the Syrian armed forces destroyed rocket launchpads and mortars launchers of militant groups and repelled their attempt to infiltrate a number of secured neighborhoods in Aleppo.
The Syrian Arab news agency quoted a military source as saying that army units wholly eliminated several armed rebel groups whose members were attempting to infiltrate safe areas in the neighborhoods of Bustan al-Basha, Saleh Eddin and al-Sweiqa in the old city of Aleppo.
The source added that militants' gatherings were eliminated at al-Jandoul-al-Kastello axis in a number of special operations which also resulted in destroying weapons and ammunition loaded in 3 cars in the duty free zone on al-Mislmiyeh road.
Militants' dens, rocket launch pads and mortars were destroyed in the villages of al-Jadideh, Kweiris and Rasm al-Abboud.
Heavy machine guns destroyed in Idlib
Units of the armed forces destroyed militants' cars equipped with heavy and medium machine guns, killing all the militants inside in the surrounding of Saraqeb city in the countryside of Idlib.