Human Rights
North America
Millions of Americans at risk of homelessness as aid talks collapse in Washington
Tens of millions of Americans are at risk of homelessness as an impasse in Washington over the coronavirus stimulus package has left renters seriously vulnerable.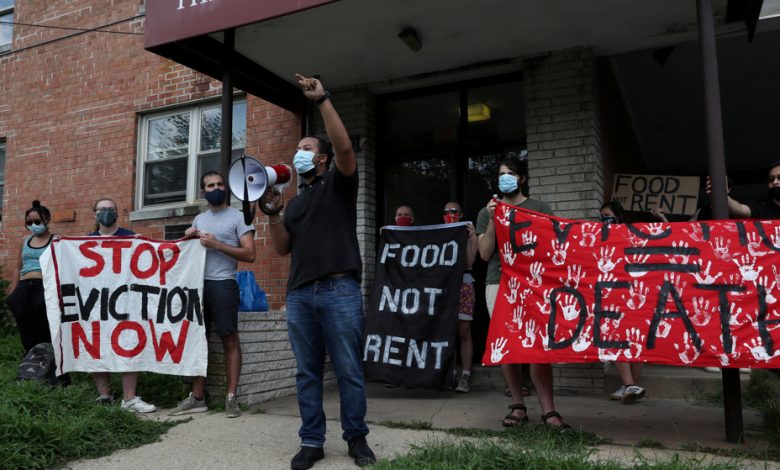 According to a report released by the Aspen Institute, as many as 40 million Americans could be at risk of eviction over the next several months.
"Renters experiencing financial hardship as COVID-19 have exhausted their resources and limited funds just as eviction moratoriums and emergency relief across the United States expire," said the report.
"Without intervention, the housing crisis will result in significant harm to renters and property owners," it added.
When the coronavirus began to spread across the US, congress passed the $2.2 trillion CARES Act, which included an eviction freeze that protected about 12 million renters in federally backed properties.
But that moratorium expired at the end of July.
"The vast majority of states lack protective eviction moratoriums and housing stabilization measures that could support renters facing rent hardship," the report said.
Weekly census data shows that more than 30 percent of renters in the United States have no or "slight" confidence in their ability to pay rent next month.
The housing crisis is "already a tsunami," said Bambie Hayes-Brown of Georgia Advancing Communities Together, a coalition of nonprofit housing and community development groups.
"We got some funding from the United Way and we went through it so fast. We were just inundated," Brown added.
Landlords have filed for nearly 35,000 evictions during the pandemic in 17 cities tracked by the Eviction Lab at Princeton University, though 10 of those cities are blocking the move.
There are some 110 million Americans living in rental households; up to 23 million renters – or 20% – are at risk of eviction by the end of September, according to an analysis by the COVID-19 Eviction Defense Project.
Another factor is the ending on July 31 of federal supplemental unemployment benefits that provided $600 a week to workers laid off due to the pandemic, AFP said.
"Without the $600, nobody can pay the rent," said Yudy Ramirez, who lost her job as a housekeeper at a Manhattan hotel in March.
Another study by Apartment List, an online rental platform, found that at least 32% of households still owed money at the beginning of August for rent or mortgage payments from previous months. More than 20% owe more than $1,000.
"Missed housing payments are continuing to pile up," the study said.
"For the fourth straight month, we found that roughly one in three Americans failed to make their full rent or mortgage payment in the first week of the month," it added.
In the meantime, hopes for relief in the form of a fresh aid package from the White House were dashed as Democrats and Republicans failed to reach an agreement and prompted President Donald Trump to take executive action on Saturday to try to extend an array of federal pandemic relief.
Treasury Secretary Steven Mnuchin, Trump's chief negotiator, refused any movement on their initial $1 trillion offer, which is less than a third of what the Democratic-controlled House of Representatives passed in a measure in May.
But governors across the nation said the order could put a serious strain on their budgets and worried it would take weeks for tens of millions of unemployed Americans to begin seeing the benefit.
They are now struggling with how to make good on the order that their economically battered states deliver billions more in unemployment benefits to jobless residents.
The COVID-19 pandemic has taken a heavy toll on the United States, where it has killed more than 166,000 people, more than any other country.
US coronavirus cases also rose by at least 51,848 on Wednesday to 5.22 million.