Iran
Minister: Enemies Fearing Iran's Progress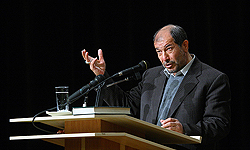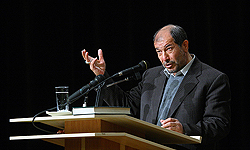 The enemies of Iran are fearing the country's scientific progress, Iranian Interior Minister Mostafa Mohammad Najjar said, and added that western efforts to hinder Iran's progress will remain futile.
"Enemies are worried about the Iranian nation's progress in various international arenas and they have provocative plots to disappoint people," Mohammad Najjar said, addressing a meeting of Iran's provincial governors-general here in Tehran on Thursday.
"The Iranian nation will withstand the enemy's pressures," the minister added.
In similar remarks in July, Supreme Leader of the Islamic Revolution Ayatollah Seyed Ali Khamenei said that foreign pressure will not change Iran's calculations and the West is facing serious crises.
The leader stated at the time that the Iranian nation will not give in to western pressures, and noted that the US-engineered sanctions will only make Iranian officials more determined to defend the nation's rights.
Despite the rules enshrined in the Non-Proliferation Treaty (NPT) entitling every member state, including Iran, to the right of uranium enrichment, Tehran is now under four rounds of UN Security Council sanctions for turning down West's calls to give up its right of uranium enrichment.
Tehran has dismissed the West's demand as politically tainted and illogical, stressing that sanctions and pressures merely consolidate Iranians' national resolve to continue the path.