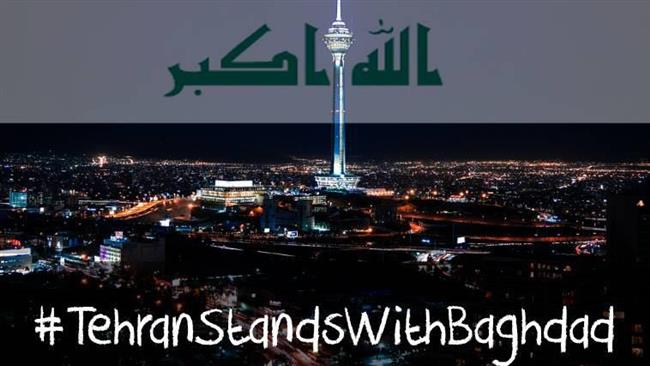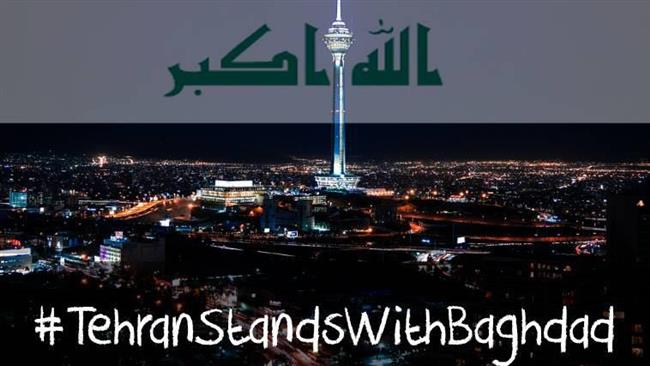 Tributes are pouring in from governments and people from major countries in the world — including non-Muslim ones — to the victims of the recent deadly bombing attack in the Iraqi capital, Baghdad, while some regional states look on poker-faced.
A vehicle packed with explosives was detonated in the Iraqi capital's Shia neighborhood of Karrada on Sunday while families were shopping for Eid al-Fitr, marking the end of the holy Muslim fasting month of Ramadan. The death toll from the tragedy claimed by the Takfiri terrorist group of Daesh has reached 250.
Lights representing the Iraqi national flag draped down the iconic Milad Tower in the Iranian capital, Tehran, later in solidarity with the victims, while people held a candlelit vigil in front of the Iraqi Embassy in the Iranian capital.
The Iraqi capital itself saw Christians staging similar commemorations with heavy hearts.
Pictures, meanwhile, showed two British nationals joining in mourning and the British flag being lowered half-mast at the UK Embassy in Baghdad.
A Spanish monument was dressed in Iraqi national colors as was another in the Netherlands. Commemoration events were also held in Sweden, where a picture showed a Swedish police car having been dressed in the Iraqi flag in memoriam.
A tower was also lit up in Kuwait, although major regional countries refused to express solidarity over the bloodletting even as they did so when triple bombings hit Saudi Arabia on Monday and when Daesh killed scores of people in the French capital of Paris last year.
Meanwhile, a representative of Iraq's top cleric Grand Ayatollah Ali al-Sistani has paid a visit to the site of the bombings in Karrada.
Ahmed al-Safi, Grand Ayatollah Sistani's representative, visited the site on Wednesday.