Palestine
Murra: The resistance and the intifada are the only means to liberate the Palestine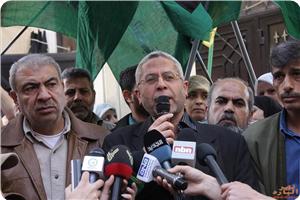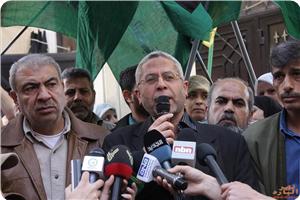 Ra'fat Murra, in charge of political affairs in Hamas's office in Lebanon, said that the resistance and the launch of a third intifada are the only means to liberate Jerusalem and the Aqsa Mosque.
Murra made his remarks during a reception held on the occasion of Eid Al-Adha on Tuesday in Burj Al-Barajneh refugee camp in Beirut.
Murra highlighted during his speech the Israeli violations against the holy city and the Aqsa Mosque and warned that the Israeli occupation had escalated its Judaization activities unprecedentedly in Jerusalem.
He said the growing Israeli violations in the holy city are attributed to the expanding crises in the Arab world, the Palestinian peace negotiations with the occupation regime, and the international silence.
He also slammed the Palestinian Authority for its security cooperation with the occupation.
For its part, the Hamas Movement issued a statement on Tuesday congratulating the Palestinian people, and the Arab and Muslim nations on the occasion of Eid Al-Adha.
Hamas expressed its pride in the sacrifices and resistance efforts made by the Palestinian people in different areas of Palestine to confront the occupation and renewed its commitment to armed resistance as the only option to liberate Palestine.