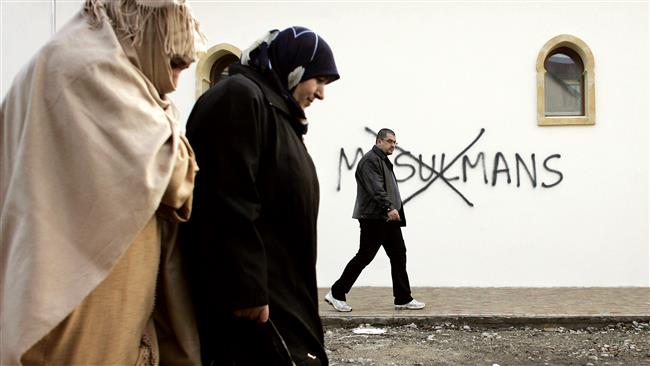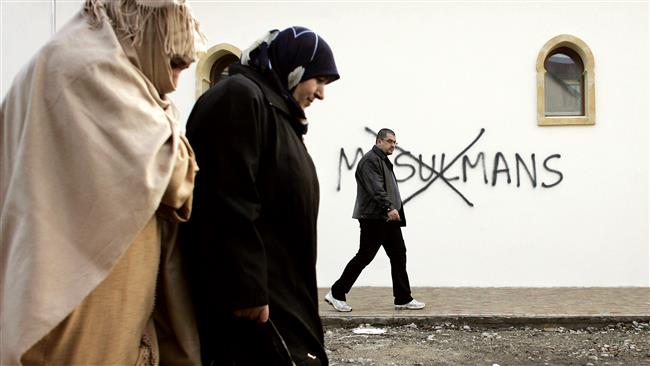 Islamophobic abuse is escalating in Britain with critics blaming the government's policies for the alienation of Muslim communities in the country.
A newly-published video shows a British man verbally abusing a Muslim pensioner on a London bus.
The offender shouts obscene remarks about the disabled pensioner and his family, with other passengers standing by and watching.
The man then threw his victim's walking frame off the bus.
'Tragic episode'
A London-based political commentator has blamed governments' policies as well as media campaigns against Muslims as one of the root causes of the Islamophobia in the West.
"I think this episode is stupid and tragic… even though overtly they say one thing, covertly this is what they're encouraging through their policies.  When you look at what they talk about in terms of the refugees or migrants as they call them, who are coming in, they give the impression that the bulk of these migrants are Muslims coming in from Syria. Of course everyone knows it's garbage… It is not only Muslims who are coming in [Europe], non-Muslims are also coming in. But the impression the media is giving is that this is entirely Muslims' problem," Shabbir Hassanally told Press TV's UK Desk on Monday.
Austerity Pressure
He also believes the financial difficulties caused by the austerity measures prompt some "naive people" to point finger of blame at Muslim communities.
"When a society has difficulties, when it has financial problems and austerity and all of these things, people tend to blame someone for their difficulties… and in this case because Muslims are supposed to stand out, especially Muslim women because of their Hijab, you have some of these simple people point figure at [Muslims] because they are different," the London-based commentator reiterated.
Covert Zionist Campaign
Hassanally said that Zionists can also be behind the Islamophobic campaign which is underway in the UK.
"The area that this event happened, is known to have a significant Zionist population. This is something Zionists are promoting covertly, they are not doing this openly…," he added.
'Islamophobic abuse'
The shocking clip which went viral online emerged shortly after a British woman was filmed racially abusing a pregnant Muslim woman on a bus in Brent.
The tirade came days after UK Conservative government called on police forces to step up data-gathering on hate crimes against Muslims.
The Muslim Council of Britain said the incident "shed light on Islamophobic abuse."
According to official figures, there has been a 70 percent increase in racial attacks on Muslims since last year.