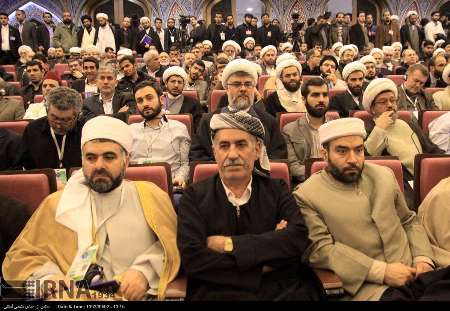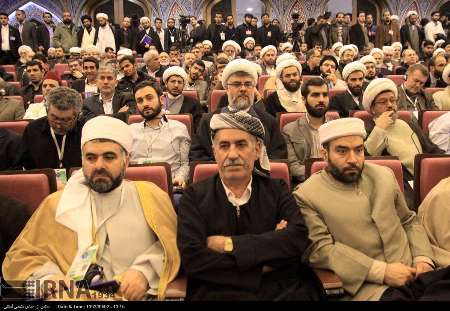 Participants of the World Congress on Extremist and Takfiri Movements in the Islamic Scholars' View called for establishment of a world assembly of Muslim Ulema in their final statement.
The two-day international gathering ended in the holy city of Qom (Iran's religious capital) on November 24. It was held with the participation of a large number of prominent Islamic figures from 83 countries from both Shiite and Sunni sects.
The final statement regretted that world Muslims have been experiencing the toughest and most bitter times of the Islamic history due to the acts of the extremist groups aimed at damaging the portray of the divine religion worldwide.
Measures made by Takfiri and extremist currents have damaged the portray of Islam, sowed discord among Muslims, misled world public opinion from major problems facing the Islamic world, strengthened enemies' front and led to the continuation of hegemonic power's dominance over Muslim states as well as looting resources and wealth of the Islamic countries, read the final statement.
It urged Muslim Ulema to disclose the nature of Takfiri and extremist groups and at the same time try to introduce Islamic teachings to world nations in order to play their significant role in confronting the extremist groups and their innovations.
The statement urged all Muslim scholars, Islamic elites in particular, to act based on peace with both Muslims and non-Muslims and try to confront any attempt to portray Islam as a violent religion.
The document also condemned acts of Takfiri and extremist groups in regional states, Iraq and Syria in particular, and expressed deep concern over the spread of those currents.
Participants of the Congress also supported the justice-seeking uprising of the Palestinian nation against the Zionist regime, calling their resistance as an open example of legitimate defense.
They also reiterated the support of all world Muslims for liberation of the occupied lands.
Noting that lack of Muslims familiarity with the Islamic teachings was one of the reasons behind leaning of a number of Muslims towards deviational thoughts, the statement urged Muslim Ulema to enlighten minds of the young generation of the Islamic world.
The document also urged all Muslim nations and governments to stop financial, military and political support for extremist groups particularly dispatching mercenary forces to help Takfiri groups fight against regional nations.