Iran
Muslims need coalition; not war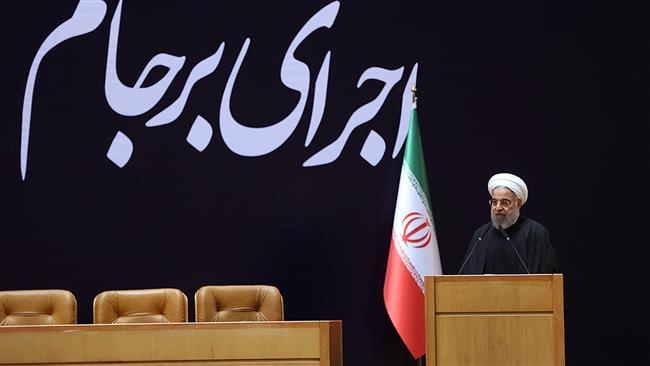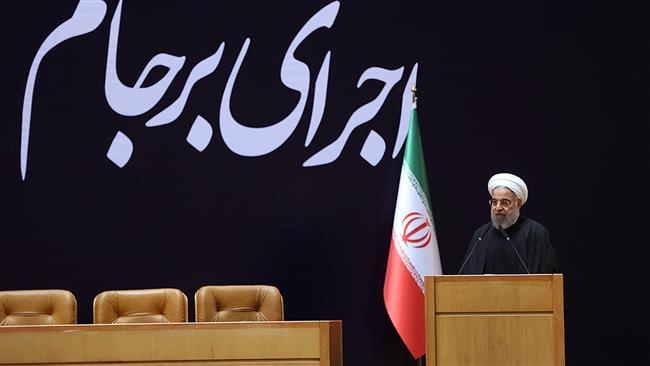 Iran's President Hassan Rouhani has called on Muslim countries to form an alliance for progress and development and not for war, in an apparent reference to the coalition formed by Saudi Arabia for the aggression against Yemen.
"We believe that the conditions in the region and world of Islam call for the creation of a coalition for development, and not war, in the world of Islam," Rouhani said in a meeting with Pakistan's Prime Minister Nawaz Sharif in Tehran on Tuesday.
Saudi Arabia launched a deadly aggression against Yemen last March with the help of some of its allies. More than 7,500 Yemenis have so far been killed in more than nine months of incessant attacks, while millions more are reported to have been stranded across the country.
Responding to the Pakistani premier's remarks about the recent tensions between Iran and Saudi Arabia, Rouhani said, "We call for the expansion of relations and do not welcome tension provided that the rights of Muslim people are respected."
Nimr's execution was widely censured by Muslims and human rights activists around the globe as well as different governments.
Saudi Arabia severed diplomatic relations with Iran on January 3 following demonstrations outside the Saudi embassy in Tehran and its consulate in the northeastern city of Mashhad by angry protesters. The Saudi diplomatic premises was attacked by some during the demonstrations. Iranian officials strongly denounced the raids and have arrested over 150 people over the incident.
Besides Pakistan, other countries, including Russia and China, have voiced readiness to mediate between Iran and Saudi Arabia.
Elsewhere in his remarks, Rouhani expressed deep concern over insecurity caused by terrorists in the region and said the Iranian administration's policy is "based on constructive interaction with world countries, particularly neighboring states."
Iran will give a "positive response" to request for cooperation by countries which are fighting terrorism, the president added.
He pointed to "unacceptable" efforts aimed at causing division between Shia and Sunni Muslims and said, "We call for enhanced unity and coherence among all Muslims, including Shias and Sunnis, and are ready to cooperate with regional countries in line with the campaign against terrorism, extremism and sectarianism."
Necessity for unity among Muslims: Sharif
The Pakistani premier, for his part, stressed the importance of improving solidarity and unity among Muslims and said his country has always made efforts to ease tensions and iron out differences.
Sharif expressed concern over the spread of Islamophobia across the world and said terrorists and extremists are taking advantage of lack of unity among Muslim countries.
Heading a high-ranking delegation, Sharif arrived in Tehran on Tuesday for a day-long visit to hold talks with senior Iranian officials.
Takfiris must be confronted
Separately, Iran's First Vice President Es'haq Jahangiri told Sharif that Takfiri and extremist groups operating in the region must be confronted.
"The activity of terrorist groups is a serious cause of concern shared by the two countries and we must confront their terrorist acts through mutual cooperation," Jahangiri said.
He also said that Iran's top priority is to broaden relations with neighboring and Muslim states.