Myanmar
Myanmar: Mass protests continue in defiance of brutal crackdown by junta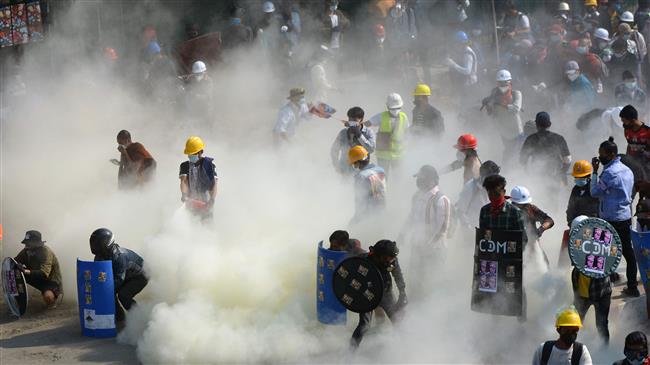 Anti-coup protesters have continued to rally in cities across Myanmar despite a brutal crackdown against campaign leaders by military junta forces.
Tens of thousands of protesters took to the streets in Yangon and other cities on Sunday following overnight raids targeting protest leaders, opposition activists and officials from ousted leader Aung San Suu Kyi's political party.
Police fired tear gas and stun grenades in Lashio town in the northern Shan region, according to live video posted on Facebook.
A witness said police opened fire to break up a protest in the historic temple town of Bagan, according to Reuters.
Myanmar has been in chaos since the February 1 coup, which ousted Suu Kyi from power and triggered a mass uprising against the military junta regime.
Yangon-based activist Maung Saungkha said there were coordinated protests across multiple cities and areas on Sunday as part of a two-day general strike.
"We are willing to die for our country," he told AFP. "This current situation is worse (than the past regime). So do we stay under this condition or do we fight? This time we must fight to win. We believe that fighting together with the young generation will get us the victory," he added.
The biggest protest was held in Mandalay where protesters staged a peaceful two-minute silence to honor those killed in the protests since the junta seized power.
One other protest leader told demonstrators in the southern city of Dawei that the opposition forces were being captured and slaughtered like "birds and chickens," urging them to revolt against the tyranny.
According to the human rights organization Assistance Association for Political Prisoners, Myanmar's security forces have detained more than 1,700 protesters and activists. The UN rights office also said it has verified at least 54 deaths since the coup — though the actual number could be much higher.