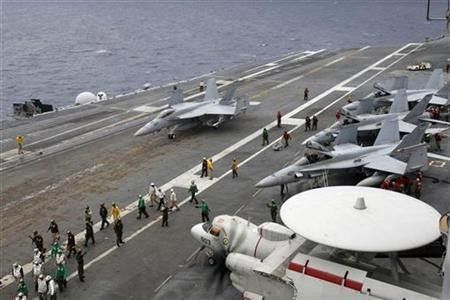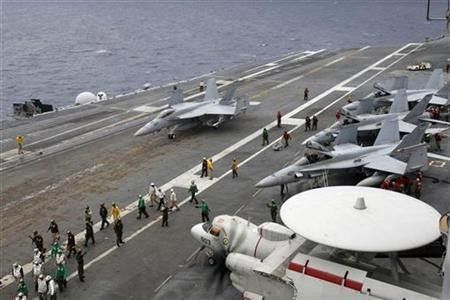 North Korean media outlets have warned that unpredictable consequences could follow the upcoming naval exercises jointly held by the South and the US.
"If the US brings its carrier to the West Sea of Korea (Yellow Sea) at last, no one can predict the ensuing consequences," North Korean's state-run KCNA reported on Saturday.
The warning comes as USS George Washington aircraft carrier is on its way to the Yellow Sea where a four-day exercise is scheduled to begin on Sunday.
The maneuvers are meant to be a show of force for Pyongyang, which shelled a South Korean Island on Tuesday and held an artillery drill in earshot of the island on Friday.
The hiked tensions are putting pressure on Seoul to take more forceful action against the North.
Seoul's delayed reaction to the first shelling forced the country's defense minister to resign. On Saturday, hundreds of South Korean protesters clashed with police in front of the defense ministry, calling for a stronger response to the North.
The developments come one day after China warned the US against going ahead with any military adventurism on the Korean peninsula.
Chinese Foreign Ministry spokesman Hong Lei said that Beijing was against military activity near its coastline.
"We hold a consistent and clear-cut stance on the issue. We oppose any party to take any military actions in our exclusive economic zone without permission," Lei said in a statement on Friday.
Pyongyang also said the war games are provocative and would push the Korean peninsula closer to war.