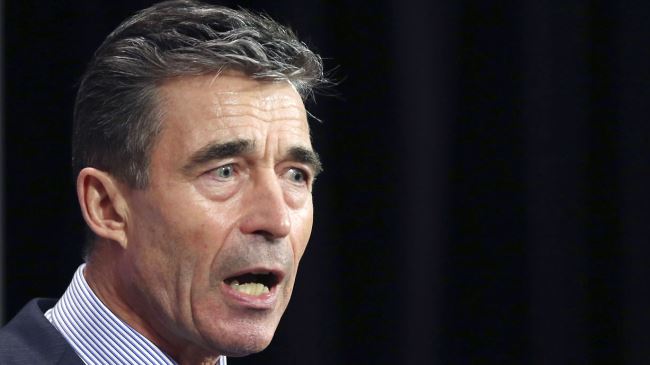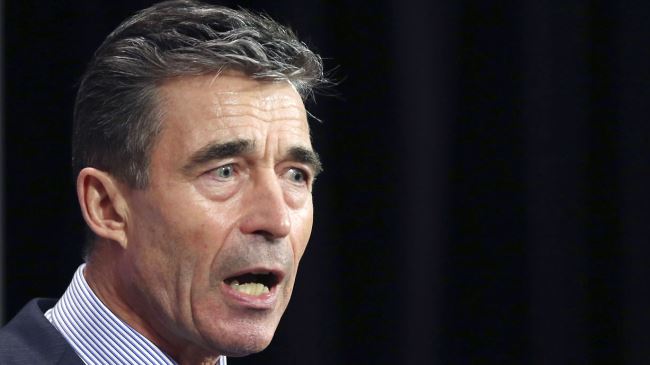 NATO Secretary-General Anders Fogh Rasmussen has severely flayed Russia over escalating tensions in eastern parts of Ukraine.
He accused "pro-Russian protesters" of seeking to "destabilize Ukraine" as the demonstrators reportedly take over more official buildings in the country's eastern regions.
Moreover, Rasmussen called on Moscow to "de-escalate" the ongoing crisis in the former Soviet state and pull back its troops from the area around Ukrainian border.
"Any further Russian military interference, under any pretext, will only deepen Russia's international isolation," he added.
Meanwhile, Jean-Marie Le Guen, the French secretary of state for parliamentary relations, said Paris will support new sanctions against Moscow in the case of a "military escalation" in Ukraine.
Kiev started an "anti-terrorist operation" on Sunday in order to crack down on pro-Russia protests in Slavyansk, which is about 90 kilometers (55 miles) south of Ukraine's industrial city of Donetsk.
This came a day after armed demonstrators seized the town's police station and its SBU security service building, calling for a referendum and unification with Russia.
Ukraine's acting interior minister Arsen Avakov said one Ukrainian security officer was killed and five others wounded during the operation.
Pro-Russia rallies have been a common scene across eastern Ukrainian cities over the past weeks.
The demonstrations gained momentum after the Crimean territory declared independence from the former Soviet state and formally applied to become part of the Russian Federation following a referendum on March 16, in which nearly 97 percent of the participants voted for rejoining Russia, with a turnout of over 83 percent.
On March 21, Russian President Vladimir Putin signed into law documents that officially made the Black Sea peninsula part of the Russian territory despite condemnation from the West and the new Ukrainian government.
The move sparked angry reactions from the United States and the European Union, both imposing sanctions against a number of Russian officials and authorities in Crimea.