Iran
Middle East
North America
Qasem Suleimani
Videos
Navy Commander: Iran's New Marine Cruise Missile Worries US Forces in Region
Iranian Navy Commander Rear Admiral Hossein Khanzadi said that the country's new marine cruise missile, named Abu Mahdi, with a range of 1,000km makes the American forces in the region more anxious about Iran's defense power.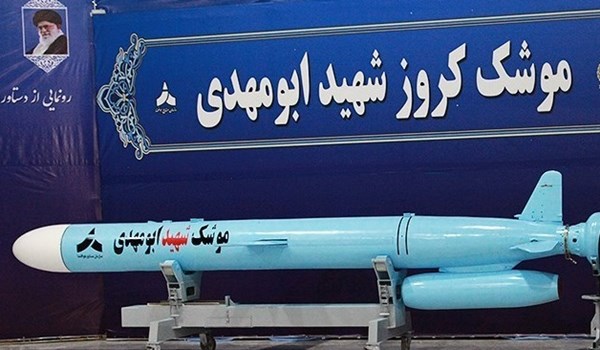 "The missile, in addition to its long range, can also be programmed. I imagine that when you have a missile which moves from one side to the target which has not been expected by the enemies, it is highly effective," Rear Admiral Khanzadi said in an interview with the state TV on Sunday.
He added that Abu Mahdi marine cruise missile provides Iran with this special capability and acts like the Navy's long hand.
"If today the US forces are present 800km away from us, certainly they should fear more because of this missile," Rear Admiral Khanzadi said.
Meantime, Commander of the Islamic Republic of Iran Air Force (IRIAF) Brigadier General Aziz Nasirzadeh who was also present in the interview underlined the Air Force's plans to increase use of drones and produce more smart and long-range ammunition and weapons.
"Certainly, we are after making all our munitions, missiles and bombs smart and we have already done so," he said.
Iran on August 20 unveiled several home-made defense equipment, including a long-range ballistic missile and a cruise missile system.
The two missiles, designed and manufactured by Iranian experts, were unveiled on the occasion the National Defense Industry Day in Iran.
The unveiling ceremony was held in the presence of Iranian President Hassan Rouhani via video conference.
Speaking at the event broadcast live on TV, Iranian Defense Minister Brigadier General Amir Hatami said the country had inaugurated a surface-to-surface ballistic missile with a range of 1,400 kilometers named after top anti-terror commander Lieutenant General Qassem Soleimani, who was martyred by the US military in January.
Iran has also developed a cruise missile, named Martyr Abu Mahdi, which has a range of over 1,000 kilometers, he said.
"The country's achievements in the defense industry over the past four decades are not comparable to any other period," General Hatami said, describing the accomplishments as a "basis for military self-reliance and a must for [maintaining] the country's independence".
Abu Mahdi al-Muhandis was also assassinated along with General Soleimani and a number of their comrades in a US drone raid near the Baghdad International Airport on January 3, 2020.
Commenting on the new achievement's features, Iran's Deputy Defense Minister Brigadier General Qassem Taqizadeh said the speed of the Martyr Qassem Soleimani missiles makes their interception impossible.
He added that the cruise missile is capable of flying at a low altitude and getting around the enemy's missile systems.