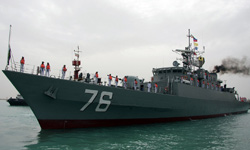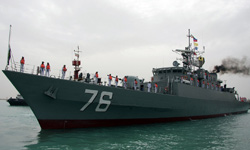 The Iranian Navy displayed its latest weaponry and military products and achievements in the annual Army Day parades here in Tehran on Monday.
During the parades at the mausoleum of the Founder of the Islamic Republic, the late Imam Khomeini, in South of Tehran on Monday, the Iranian Navy displayed Iran's first home-made destroyer Jamaran.
In February 2010, the Jamaran destroyer was launched in the southern waters of the country in a ceremony attended by senior navy commanders and Leader of the Islamic Ummah and Oppressed People Imam Seyed Ali Khamenei.
The Mowdge Class vessel has a displacement of around 14,000 tons and is equipped with over 100 modern equipments, including radars and electronic warfare capabilities, systems to confront surface, subsurface and aerial threats.
Jamaran is also armed with a variety of anti-ship and surface-to-air missiles.
The Navy also displayed a wide range of its latest weaponry, including Vellyat II and Vellayat III coast-to-sea missile systems and Valfajr torpedoes during the parades.
The strategic sea-to-sea Nour missiles, models of Shahab and Ra'ad assault vessels, the sea-to-sea Nasr missiles and models of Iran's submarines were also displayed.
Iran commemorated the national Army Day on Monday in special parades held at the mausoleum of the Founder of the Islamic Republic, the late Imam Khomeini.
Iran's new military equipments and achievements went on display in the parades.
The Iranian Army has recently test-fired different types of newly-developed missiles and torpedoes and tested a large number of its home-made weapons, tools and equipments, including submarines, military ships, artillery, choppers, aircraft, UAVs and air defense and electronic systems, during massive military drills.
Defense analysts and military observers say that Iran's wargames and its advancements in weapons production have proved a deterrent factor, specially at a time of heightened threats by the US.