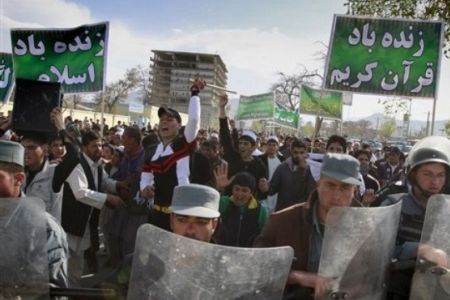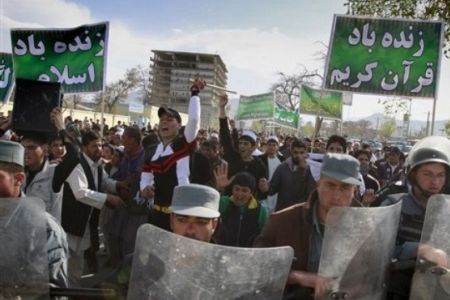 Afghan people have staged a new rally in Afghanistan's southern city of Kandahar and other districts to condemn the desecration of the holy Qur'an by a radical pastor in the United States.
On Sunday, Afghans took to the streets of Kandahar a day after 16 people were killed and over 80 injured during similar protests in the city, a Press TV correspondent reported.
"Death to the US," the demonstrators, mostly young men, shouted during the demonstration.
Police and security forces are on alert to prevent violence in the city, and the main bazaar of Kandahar was closed down due to the protests.
Zalmai Ayoubi, a spokesman for the provincial administration, said that demonstrations were held in different locations in Kandahar and Panjwayi district.
Some reports say at least one people was killed and three other wounded in the protest in Panjwayi on Sunday.
The Saturday rally in Kandahar turned violent after police blocked the protesters' march towards UN and government offices.
Earlier on Friday, thousands of people poured into the streets in the city of Mazar-i-Sharif, the capital of the northern Balkh province, protesting the burning of a copy of Islam's holy book by the American pastor in Florida.
Ten foreign workers for the United Nations, including Norwegian, Romanian, Swedish and Nepalese nationals were killed during the Friday protests after a small number of furious protesters stormed the UN headquarters in the northern Afghan city.
On March 20, Pastor Terry Jones, who had already caused an outrage worldwide by threatening to burn copies of the Qur'an last September, broke his earlier promise and burned the holy Qur'an after holding a mock trial at his fringe church in the city of Gainesville.
Afghan President Hamid Karzai has strongly condemned sacrilegious acts against the holy book of Qur'an in the United States.
The presidential office on Thursday described burning of the holy Qur'an at a Florida church as "disrespectful and abhorrent."