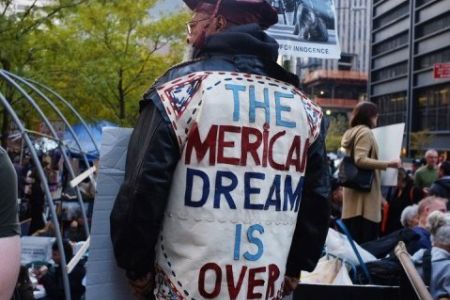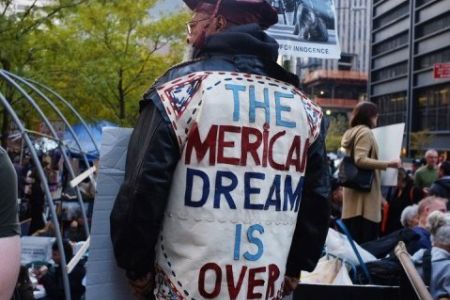 An anti-Wall Street protester has been arrested in New York City as protest rallies against corporatism and inequality continue in the United States, Press TV reports.
The protester was arrested by police on Wednesday while vocally encouraging bystanders to take a stand against the capitalist establishment ruling over America.
Several police officers surrounded the protester and then took him away, witnesses say.
Other protesters immediately reacted to his arrest by urging his release and shouting "let him go."
Elsewhere near Congress in Washington D.C., demonstrators held a mock Capitol Hill hearing, ridiculing the movement of wealth to the nation's top one percent.
The event was held on Pennsylvania Avenue's Freedom Plaza, coinciding with ongoing meetings of the so-called Congressional 'super-committee'.
On Wednesday, anti-corporatism protesters kicked off a two-week protest march, dubbed Occupy the Highway, by beginning a protest walk from New York's Zuccotti Park all the way to Washington D.C.
The protesters are planning to walk 20 miles a day and will stop at other protest rallies in 11 cities on their way to the US capital before reaching the White House on November 23, the OWS website reported.
"We will be walking from 9 a.m. to 5 a.m. (banks' working hours) and will hold …discussions at 7 p.m. in each town where we camp," the website said.
The arrival of the protesters at their final destination in Washington will coincide with Congress' deficit reduction committee meeting.
The 12-member committee is to discuss whether to end or extend tax cuts for the rich.
"The reason for going down to DC specifically is to make sure the billionaires get taxed," said Mae Fraser, one of the protesters.
The ongoing anti-Wall Street protests started in New York City in mid-September. The movement dubbed 'Occupy Wall Street' has grown exponentially across the globe.
The protesters are demonstrating against poverty, unemployment, war, and corporatism among other grievances.