Iraq
Middle East
North America
New US ambassador in Iraq after mysterious pullout
The new US ambassador to Baghdad has submitted his credentials to the Iraqi foreign minister, just weeks after Washington pulled out some of its diplomatic staff, citing unspecified threats.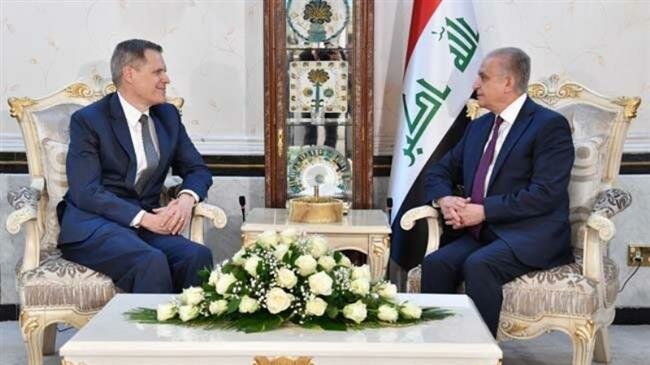 Matthew Tueller presented his credentials to Mohammed al-Hakim on Sunday, the Iraqi Foreign Ministry said in a statement.
Tueller, an Arabic speaker and a former ambassador to Yemen and Kuwait, was a diplomat in Iraq between 2007 and 2008.
Last month, the US State Department ordered "non-emergency US government employees" to leave its embassy in Baghdad and its consulate in Erbil, the capital of Iraq's semi-autonomous Kurdistan region.
Senior State Department officials said the move was because of an "imminent threat" based on what they claimed increased intelligence reporting from unspecified sources.
Exxon Mobil evacuated all its foreign staff members out of Iraq's West Qurna 1 oilfield and flew them out to Dubai, angering Iraqi authorities who denounced claims of an imminent threat as delusional.
Iran also denounced the pullout as part of a "propaganda war" after some US officials claimed that the decision had been prompted by a perceived Iranian threat.
US claims of Iran threat in Iraq 'mere propaganda war'Tehran's mission to the UN has rejected as a mere "propaganda war" America's decision to pull its diplomats out of Iraq amid claims of heightened "threats" from Iran.
In an interview with the NBC news last month, Iran's Ambassador to the UN Majid Takht-Ravanchi rejected the US claims that Tehran posed a heightened danger to American interests in the region.
"These are all allegations which are being produced by the same people who, in the run-up to the US invasion of Iraq, did the same," Takht-Ravanchi said.
Washington's claims were also dismissed by many Iraqi political groups and personalities.
Nasr al-Shomari, a commander for the Harakat Hezbollah al-Nujaba, told AFP that the claim was "a pretext" by Washington to create "an uproar" in Iraq.
Citing those "threats," Washington sent military reinforcements to the region, including an aircraft carrier strike group, a squadron of B-52 bombers, and a battery of patriot missiles.
The US has provided no evidence to support its claims, which have also been disputed both by senators at home and its allies in Europe.
'US aircraft carrier stays outside Persian Gulf'The US aircraft carrier sent by the White House to the Middle East amid strains with Iran remains outside the Persian Gulf in an effort to deescalate tensions.
"There's been no increased threat from Iranian backed forces in Iraq and Syria," British deputy commander in Iraq Major General Chris Ghika said last month.
Following Washington's decision to partially evacuate diplomatic missions in Iraq, bipartisan senators urged the administration of President Donald Trump to explain the measure.