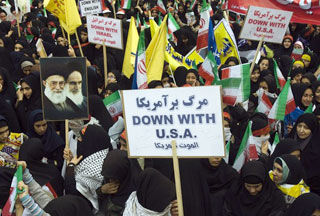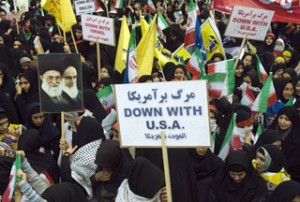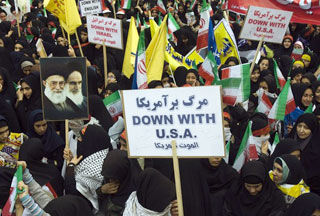 After a massive turnout in a pro-government rally on the 30th anniversary of the US embassy takeover in Tehran, a senior cleric brands US longing for an uprising in Iran as "false hope."
"The US government should not put its faith in a small group of protestors and expect them to change the country's course," said Tehran's Interim Friday Prayers Leader Seyyed Ahmad Khatami.
Ayatollah Khatami said the high turnout in the recent rallies prove that the younger generation of Iranians is just as committed to the principles of the Islamic Revolution as "their revolutionary forefathers."
"People have marched in hundreds of thousands to show their support and loyalty to the government and the demonstrators, who gathered in hundreds to chant opposition slogans, were no match for them."
"Western countries, particularly the United States, should not expect a major turn of events in Iran. There is nothing going on in the country," he said.
Ayatollah Khatami was referring to a massive wave of rallies marking the takeover of the American embassy in Tehran more than thirty years ago.
University students, convinced of a US plot against the Islamic Revolution, stormed the American embassy on November 4, 1979, only months after the Western-backed Pahlavi regime was toppled in Iran.
After finding shredded documents inside the embassy that proved their convictions to be true, Iranians held hostage fifty-two Americans for 444 days and demanded an official apology from the US for its destructive role in the county. November 4, has since been commemorated as the national day of fighting global arrogance.
Iranians also called for the unfreezing of the country's assets in US and urged Washington officials to promise not to interfere in Iran's internal affairs.
The hostage-taking marked the end of Washington-Tehran relations and eventually resulted in the Algiers Accords in January 19, 1981.
Under the agreement, Washington promised that "It is and from now on will be the policy of the United States not to intervene, directly or indirectly, politically or militarily, in Iran's internal affairs."
However, the agreement has been breached by the United States on numerous occasions.