Korea
North America
North Korea tests missile launchers as denuclearization talks with US stall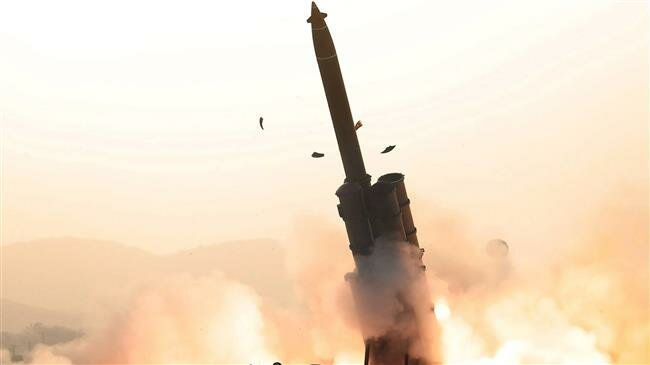 North Korea has conducted a test of what it calls "super-large multiple rocket launchers" as efforts by Washington and Pyongyang to resume denuclearization negotiations hit another impasse.
The test of the rocket launcher system on Thursday afternoon followed similar tests in August and September under the supervision of North Korean leader Kim Jong-un, according to state news agency KCNA.
Apparently, Kim did not watch the test in person as KCNA suggested that he "expressed satisfaction" after the outcome was reported to him immediately after it was conducted.
Kim also congratulated the scientists who had developed the weapon, the report added.
The multiple rocket launcher system's photo was featured on the front page of the state newspaper Rodong Sinmun, while surrounded by yellow flames and smoke.
According to KCNA, the test verified that Pyongyang could launch a surprise attack and "totally destroy" enemy targets by using their "continuous fire system."
The test came only hours after the North launched two "unidentified projectiles" toward the Sea of Japan, according to an earlier report by the South Korean military.
South Korea's Joint Chiefs of Staff said the projectiles were launched from South Pyongan province on Thursday afternoon.
Pyongyang has also tested a new submarine-launched ballistic missile (SLBM) and fired more projectiles into the Sea of Japan over the past few weeks.
The developments come only four days after warned the US that it was running out of time to address an impasse in the diplomatic process between the two sides over dismantling the North's ballistic missile and nuclear programs.
Pyongyang also walked away from working-level nuclear talks with Washington in Sweden earlier in October, and has since repeatedly called Washington officials to come forward with a new offer by the end of this year.
Kim has already set the end of 2019 as the deadline for achieving progress in the stalled talks.
In June 2018, Kim and US President Donald Trump held their first ever summit in Singapore, where they struck a broadly-worded agreement on working towards denuclearization of the Korean Peninsula, the details of which remain to be hammered out.
The pair also had an unsuccessful February meeting in Hanoi, Vietnam.
Even though Trump insists that the recurrent tests are not against Pyongyang's pledge to halt all ballistic missile tests as long as negotiations are ongoing, the latest test did not go down well in US Congress.
"North Korea is engaged in increasingly escalatory behavior," said Republican Senator Cory Gardner, chairman of the Senate Foreign Relations Subcommittee on East Asia, the Pacific, and International Cybersecurity Policy.
"This launch and continued North Korean aggression underscore the need for the Trump administration to re-commit to the maximum pressure policy" and for Congress to slap more economic bans against Pyongyang.