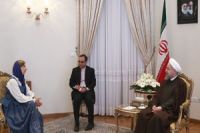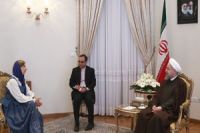 Iran's President Hassan Rouhani says a final nuclear deal between Tehran and the 5+1 group is possible by the upcoming deadline for the talks between the two sides, if the 5+1 group shows the necessary political resolve in this regard.
According to Press TV, in a meeting with Norwegian Ambassador to Tehran Odyssey Norheim on Monday, Rouhani said Iran has taken very positive step in the previous rounds of nuclear talks with the five permanent members of the UN Security Council plus Germany.
Emphasizing that Iran's nuclear activities are completely peaceful and will remain so in the future, the Iranian president added "If Iran's negotiating partners also show the necessary political resolve, it will be possible to reach a comprehensive nuclear agreement within a month."
Rouhani pointed out "Our activities are within the framework of the NPT [Non-Proliferation Treaty] and are carried out under the supervision and in the presence of the International Atomic Energy Agency's inspectors."
The Norwegian ambassador, who submitted her credentials to President Rouhani, said Oslo recognizes Iran's right to peaceful nuclear energy and expressed hope the nuclear talks would lead to a comprehensive deal by a November 24 deadline.
She added that Norway is determined to hold close consultation with Iran to solve regional issues and establish stability in the region.