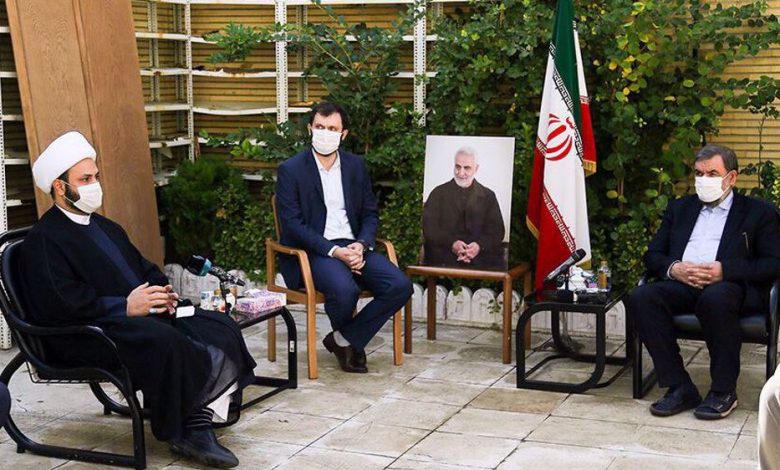 Iraq's Harakat al-Nujaba resistance group, which is part of the Popular Mobilization Units (PMU) or Hashd al-Sha'abi, has warned of a "malicious" American plot to disintegrate the country through a soft war combined with political and religious sedition.
Nujaba Secretary General Sheikh Akram al-Ka'abi made the remarks in a meeting with Mohsen Rezaei, the secretary of Iran's Expediency Discernment Council, in Tehran on Wednesday.
Ka'abi said the United States assassinated top Iranian anti-terror commander Lieutenant General Qassem Soleimani and the PMU's second-in-command Abu Mahdi al-Muhandis in a bid to change the political-security equation in Iraq, but the scheme was foiled by the nation's vigilance.
Washington then adopted "a malicious policy" and lined up media mercenaries, mostly residing abroad, to wage a soft war against Iraq, he added.
The US embassy in Baghdad also sought to create political and religious sedition, with American companies, directly supported by US President Donald Trump, operating like mafia gangs to promote corruption in Iraq, according to Ka'abi.
Additionally, he said, the US gave green light to Turkey to occupy areas in northern Iraq, inciting the Kurds to stand up against the central government in Baghdad while pitting the Sunnis against their Shia brothers.
The deadline set by the Iraqi resistance groups for political parties to end the US occupation is nearing, the Nujaba head warned, describing as unacceptable Washington's disregard for Iraqis' demand for its expulsion.
On January 5, Iraqi lawmakers unanimously passed a bill mandating the expulsion of all foreign troops from the country.
It came two days after the US assassination of General Soleimani upon his arrival in Baghdad International Airport at the invitation of the Iraqi government.
"The United States will eventually withdraw from Iraq, and the resistance will strike more powerfully. The number and capabilities of resistance groups in Iraq have increased, and they have risen up against the American occupiers today, just as they defeated Daesh," Ka'abi added.