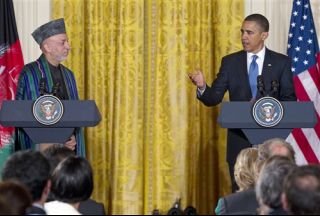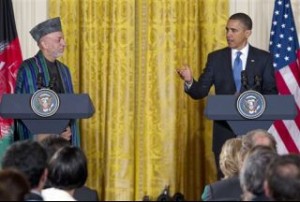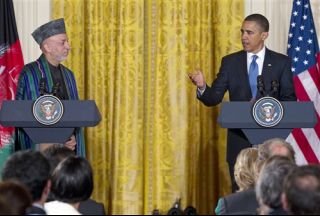 The US and Afghan presidents say they have agreed to take measures to decrease the rising civilian casualties in the war-torn country.
On Wednesday, during a joint press conference with President Barack Obama, President Hamid Karzai of Afghanistan insisted on the judicial independence of his country.
He also pointed to the differences of opinion between the two governments.
"There are moments when we speak frankly to each other, and that frankness will only contribute to the strength of the relationship," Karzai said.
President Barack Obama, for his part, warned that there are still serious challenges and difficult days ahead after years of unsuccessful military presence in Afghanistan.
"Obviously there are going to be tensions in such a complicated and difficult environment and in a situation in which, on the ground, both Afghans and Americans are making enormous sacrifices," Obama said.
The US-led the invasion of Afghanistan was launched with the official objective of curbing militancy and bringing peace and stability to the country. Nine years on, however, Afghanistan remains unstable and civilians continue to pay the price.
President Obama also promised to implement measures to further avoid civilian casualties.
2009 was as the deadliest year for Afghan civilians since the 2001 US-led invasion of the country. According to UN figures, over 2,400 civilians were killed in Afghanistan last year.
Following the press conference, President Obama told reporters that "perceived tensions" between the United States and Afghanistan were "simply overstated," Fox News reported.
President Karzai had earlier accused the White House of manipulating the results of last year's presidential vote.