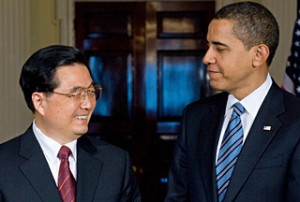 The US President Barack Obama says fresh Israeli decision to build new houses on the West Bank doesn't make the Tel Aviv regime safer, further complicating a Middle East peace accord.
"I think that additional settlement building does not contribute to Israel's security. I think it makes it harder for them to make peace with their neighbors," Fox News quoted Obama as saying on Wednesday at an interview in China.
"I think it embitters the Palestinians in a way that could end up being very dangerous," he noted.
The Jerusalem Al-Quds city government moved forward Tuesday with plans to build 900 new homes at Gilo, a settlement of 40,000 Jewish settlers built in a part of the West Bank that Israel captured in 1967 and illegally annexed to Jerusalem Al-Quds.
Publication of the government commission's blueprint for Gilo on Tuesday drew sharp criticisms from Palestinians, joined by the United Nations, Washington, the European Union and Britain.
Palestinian negotiator Saeb Erekat said, "We condemn this in the strongest possible terms. It shows that it is meaningless to resume negotiations when this goes on."
The Palestinian Authority and its subordinates want a capital at Jerusalem Al-Quds for the state they hope to establish in the West Bank and Gaza Strip. They complain that Israeli settlement building around the holy city will cripple the viability of any state they wish to set up.
The influential Islamic movement Hamas and its supporters, however, consider the Israeli entity as illegitimate and reject negotiations with them over the Palestinian land and rights.
Tel Aviv is currently under intense pressure form international community to halt the illegal settlement constructions in the West Bank. Israeli settlements are widely considered as the main hurdle in the way of a so-called 'comprehensive Israeli-Palestinian peace talks.'
Under the 2002 Roadmap for a 'Peace plan' brokered by the United States, the European Union, the United Nations, and Russia, Israel has to 'dismantle settlement outposts erected since 2001 and also freeze all settlement activities'.
It is estimated that there are almost 200,000 illegal Jewish settlers in the twelve or so Israeli settlements in Jerusalem Al-Quds. There are also about 300,000 more illegal Jewish settlers living in settlements across the occupied Palestinian territory of West Bank.