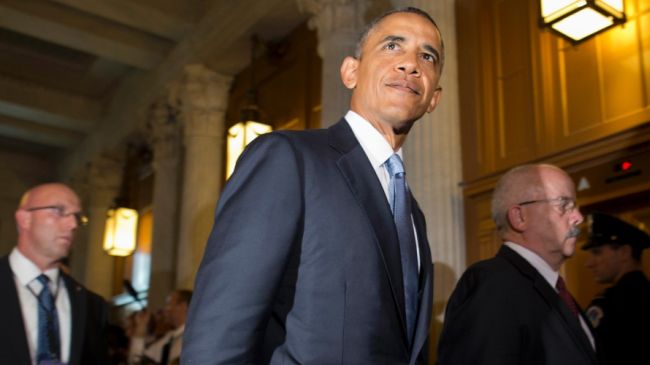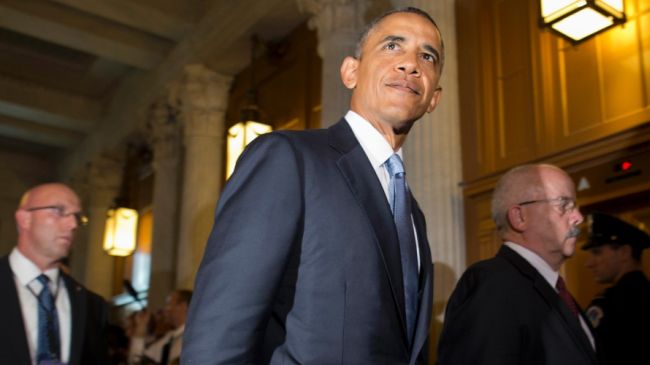 US President Barack Obama has postponed a meeting with congressional leaders as the partial government shutdown drags on and the debt ceiling dispute continues.
White House officials said on Monday that the move was made to give more time to members of Congress to find a way to reopen the government and avert a default on the country's debt.
The US president had been scheduled to meet with House Speaker John Boehner, House Minority Leader Nancy Pelosi, Senate Majority Leader Harry Reid and Senate Minority Leader Mitch McConnell.
The meeting has been put on hold "to allow leaders in the Senate time to continue making important progress towards a solution that raises the debt limit and reopens the government," the White House said.
The government has been partially shut down for two weeks now.
The Treasury Department says it cannot guarantee that the US government will be able to pay its bills past October 17 if Congress does not raise the debt ceiling by then.
However, it is unclear whether Congress can meet that October 17 deadline.
Foreign leaders and business executives have urged Washington to resolve the budget crisis before it does further damage. Most economic experts say a default could have a serious impact on global financial markets.
Meanwhile, former US defense secretary Leon Panetta criticized the White House and the Congress for their inability to reach an agreement, saying his country has been weakened due to the ongoing government shutdown.
"Everybody knows we've got to extend the debt limit in order to avoid that catastrophe. Everybody knows we've got to end this crazy shutdown on the federal government," he said while appearing on NBC's "Meet the Press."
Panetta who served as a budget director in the Clinton administration took a swipe at what he called a "small minority" in US Congress, saying they have been allowed to "take out their vengeance on American citizens."