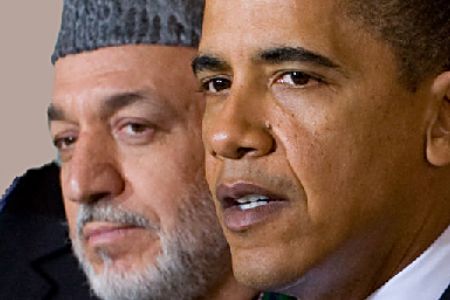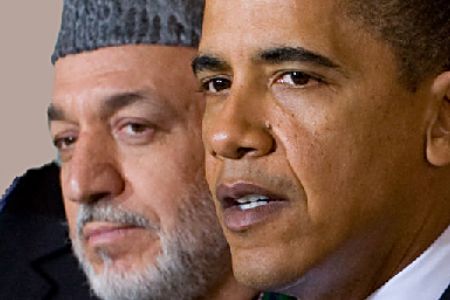 US President Barack Obama is scheduled to meet his Afghan counterpart amid growing friction between the governments in Kabul and Washington.
The White House has announced that Obama will meet with Afghan President Hamid Karzai on the sidelines of a NATO summit in Lisbon on Saturday.
The meeting is due to take place days after Karzai called on Washington and its NATO allies to reduce their military presence in the war-ravaged country.
Afghanistan is scheduled to be among top priorities on the agenda of the summit that will begin Friday in the Portuguese capital of Lisbon.
Karzai has recently expressed his harsh criticism of US military policies in his country, calling for a reduction of military operations by the US-led forces that continue to impose a heavy toll on Afghan civilians.
Karzai said Afghans are losing patience with the continued US presence that is worsening the war with the Taliban.
The Afghan president specifically called on the US-led forces to reduce their visibility and the intensity of their military operations in Afghanistan, in addition to discontinuing their night raids.
"The time has come to reduce military operations," the Afghan president said in an interview with The Washington Post on Sunday.
"The time has come to reduce the presence of, you know, boots in Afghanistan… to reduce the intrusiveness into the daily Afghan life," he added.
His comments drew fierce criticism from NATO and US military officials.
Karzai's remarks come as hundreds of civilians have lost their lives in US-led airstrikes and ground operations in various parts of Afghanistan over the past few months, with Afghans becoming more and more outraged over the seemingly endless number of deadly assaults.
As casualties have risen in Afghanistan in 2010, public opinion has begun turning against the war in the United States and other countries.
This situation is adding fuel to the fire of anti-US sentiment in Afghanistan and the rest of the Muslim world.
However, US President Barack Obama's Special Representative for Afghanistan and Pakistan, Richard Holbrooke, recently acknowledged that Washington has "no exit strategy" for Afghanistan.