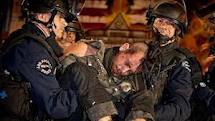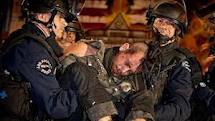 The Creating Community Awareness Coalition is organizing town hall meetings to talk about the so-called Chalk Walk at last month's downtown Art Walk event.
At the July 12th event, LAPD officers in riot gear shut down the streets, closed galleries and businesses. Police streamed officers into downtown and used less-than-lethal rubber bullets to disperse the crowd, injuring more than a dozen people. The police action came after a group of people starting drawing with washable chalk on sidewalks, streets, and buildings.
Los Angeles police officers have already announced plans to have an increased presence at the next Art Walk, scheduled for August 9th. Coalition members are hoping to keep the event peaceful by building bridges between the diverse communities that live and work in downtown Los Angeles.
Chris Jackson is an Occupier who helped create the new coalition. Jackson says the international attention the last Art Walk received has helped to motivate this discussion.
The Chalk Walk event ended with the arrest of more than a dozen people but only a few of them were Occupy activists. Coalition members say it shows that it's not just a situation of Los Angeles police versus Occupy LA.
The Chalk Walk stemmed from an ongoing protest about the gentrification of downtown Los Angeles. Occupy LA activists say the city is working with corporations to criminalize the homeless and force them out. The coalitions says it's just one of the many issues that they hope to address in future meetings.
Occupy activists have already begun planning an event for the next Art Walk. Similar events will be held across the country as well, in solidarity with the people who were affected by the clash with police.