Iran
Middle East
North America
Official: US Anti-Iran Plots Defeated in All Fronts
Head of Iran's Civil Defense Organization Brigadier General Gholamreza Jalali said on Friday that his country's active strategy and civil hybrid defense repelled all efforts of Washington against Tehran, adding that it is now a universal belief that the Islamic Republic has handed a heavy defeat to the US in all areas of warfare.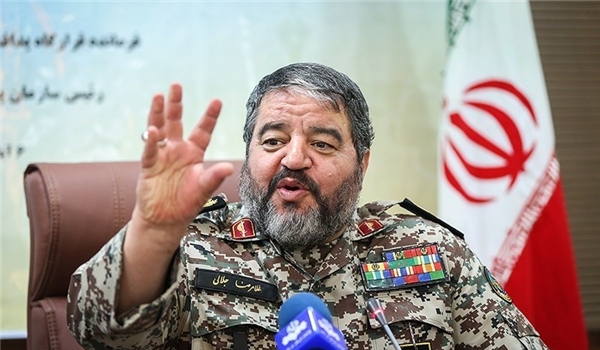 Speaking prior to Friday Prayer sermons at Tehran University today, Brigadier General Jalali said that the round of the country's active strategy was quite successful and serious, adding that all Western strategists agree, "We were able to organize a kind of civil hybrid defense during this period and achieve our goals."
"The first achievement is that we were able to define an asymmetric deterrence in defense," a model of deterrence that is able to respond to asymmetric threats from the asymmetric model and to reach a balanced point, he said.
Head of Civil Defense Organization stated that in Iran and other countries, the threat has different effects, adding that inside the country, modern technologies create threats and opportunities, so while these technologies bring about opportunities, at the same time their inherent threat is institutionalized.
He said Washington tried to take measures against Iran from 2018 with various components, one of which was political components such as the US' unilateral withdrawal from the landmark nuclear agreement of 2015, officially known as the Joint Comprehensive Plan of Action (JCPOA), the policy of maximum pressure and at the same time using Europeans to keep Iran in the JCPOA.
He further said that the defeated plot was followed by their military option which too was repelled by Iran's strong military might and firm response to their hawkishness.
The general was referring to an American spy drone which was shot down by Iran's IRGC forces on June 20 after it had violated Iranian airspace.
The Passive Defense chief further pointed to US' efforts to hit Iran through the cyberspace, saying, when they were let down by their military option, next came the cyberattacks;
"The Americans, who suffer from multiple weaknesses in the cyber sector, tried to threaten Iran with cyberattacks," General Jalali noted, adding that the new option was also tackled successfully by the Islamic Republic's experts, asserting that the country's facilities have been secured against such threats.
Jalali said that the enemy seeks to intensify sanctions, adding that the enemy has imposed all sanctions that could be imposed, but sanctions can fertilize and strengthen the economy and create an atmosphere of prosperity with reliance on internal capacities of the country.
Brigadier General Jalali said the threat encompasses the new technologies in political, economic, social, cultural, security, cyber and social networks. However, he warned, "The bigger the size of the weaknesses is, the more serious is the enemy's threats."
Early in last month, Iranian First Vice-President Eshaq Jahangiri said that his country has overpowered the US in its anti-Tehran campaign, adding that the Islamic Republic's precautionary measures have been successful in foiling Washington's policies.
Jahangiri said today that thank God Iran has defeated the US maximum pressure strategy and the government has adopted precautionary measures to counter the US strategy.
A week later, Iranian Oil Minister Bijan Namdar Zangeneh reassured that his country has mastered the ways to circumvent the US bans on its crude exports, reiterating that Washington will be unable to inflict a serious damage on Tehran's huge oil industry.
Early in September, Secretary of Iran's Supreme National Security Council (SNSC) Ali Shamkhani asserted that Tehran's active resistance policy genuflected the US policy of maximum pressure, adding that Washington held false assumptions to make the national economy of the Islamic Republic collapse.
On Sunday, Member of the Iranian Parliament's Health and Treatment Commission Abolfazl Soroush said that the medicine supply in his country is sufficient, and added that the country's self-sufficiency has defeated the US sanctions.
"Despite the fact that the enemies of the Islamic Republic of Iran have imposed the most severe sanctions on our country, fortunately, we have no problem in terms of meeting our need for medicine and medical equipment," Soroush said.
Late in June, Iranian Minister of Information and Communications Technology Mohammad Javad Azari Jahromi disclosed that the US has failed in its recent cyber-attacks on Iran's defense and missile systems.
"They try hard, but they have yet to carry out a successful attack," Azari Jahromi wrote on his Twitter account, in reaction to the allegations by the US officials who claimed cyber-attacks on Iran's defense facilities.
He underlined that the recent US cyber-attacks against Iran's missile control systems have failed to cause any disruptions.
On Tuesday, he announced that his country's home-grown cybersecurity wall helped Tehran to foil 33 million cyberattacks in the past year.