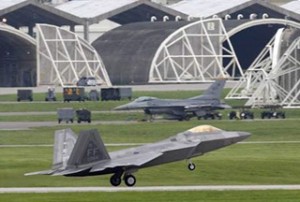 The governor of Japan's Okinawa Island says a Tokyo-Washington deal to relocate a controversial US airbase inside the southern Japanese island is tough to implement.
"We greatly regret that statement (between the two countries on the agreement) and I said that the realization is extremely difficult," governor Hirokazu Nakaima told reporters on Tuesday.
The remarks came after a meeting with Japan's Prime Minister Naoto Kan on Tokyo's decision to implement a 2006 deal to relocate Futenma airbase to a less crowded part of Okinawa Island.
The new premier took office last week after his predecessor Yukio Hatoyama was forced to resign over his failure to keep his election promise of moving the unpopular US base off Okinawa.
The Futenma base has provoked a wave of anger in the country, with the nation demanding a complete removal of the airbase off Okinawa.
Despite widespread criticism, the new premier has confirmed that he would honor the recent Japan-US deal to only move the base to a less crowded part of Okinawa.