Oliver Stone: 'CIA Fingerprints' All over Kiev Massacre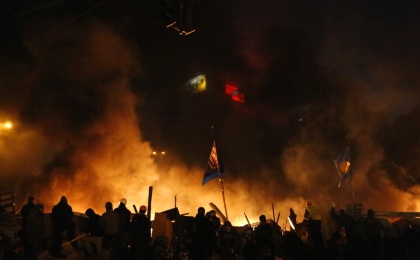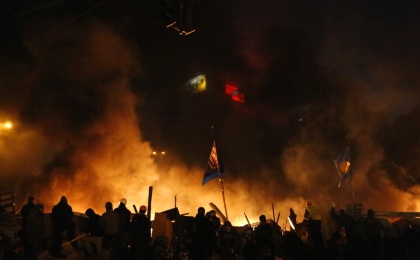 The armed coup in Kiev is painfully similar to CIA operations to oust unwanted foreign leaders in Iran, Chile and Venezuela, said US filmmaker Oliver Stone after interviewing Ukraine's ousted president for a documentary.According to an RT report, Stone spent four hours in Moscow talking to Viktor Yanukovich, who was deposed from power during the February 2014 coup, the filmmaker wrote on his Facebook page.
"Details to follow in the documentary, but it seems clear that the so-called 'shooters' who killed 14 police men, wounded some 85, and killed 45 protesting civilians, were outside third party agitators," he said. "Many witnesses, including Yanukovych and police officials, believe these foreign elements were introduced by pro-Western factions – with CIA fingerprints on it."
The filmmaker added that the events in Kiev, which led to collapse of the Ukrainian government and imposition of a new one hostile towards Russia, were similar to those in other countries, which he called "America's soft power technique called 'Regime Change 101'."
Historically those were CIA-perpetrated coups against Iranian Prime Minister Mohammad Mosaddegh in 1953 and Chilean President Salvador Allende in 1973 – both leaders with policies undesired by Washington or its allies.
More recently there was the 2002 coup in Venezuela, where President Hugo Chavez was briefly deposed "after pro and anti-Chavez demonstrators were fired upon by mysterious shooters in office buildings" and the anti-government protests against Chavez's successor Nicolas Maduro, which "was almost toppled by violence aimed at anti-Maduro protestors," as Stone put it.
"A dirty story through and through, but in the tragic aftermath of this coup, the West has maintained the dominant narrative of 'Russia in Crimea' whereas the true narrative is 'USA in Ukraine.' The truth is not being aired in the West," Stone wrote. "It's a surreal perversion of history that's going on once again, as in Bush pre-Iraq 'WMD' campaign. But I believe the truth will finally come out in the West, I hope, in time to stop further insanity."
Stone's critical assessment of the Ukrainian crisis provoked a storm of comments from pro-Ukrainian Facebook users, who accused him of taking embezzled money from Yanukovich, spreading Kremlin propaganda, simply being an idiot and a variety of other sins.
The director responded with a follow-up post Thursday, saying he was not defending the ousted Ukrainian president but instead looking at the bigger picture of US involvement in Ukraine, both currently and in the past.
As early as 1949 the CIA was supporting Ukrainian nationalists originating from the Nazi-created Nachtigall Battalion, Stone said, adding that this would be the equivalent of the Soviet Union sending guerilla infiltrators to Canada and Mexico.
"The big picture is the US has never given up on using Ukraine as a launching pad to the underbelly of the Soviet Union, now a reduced Russia," Stone said. "This Cold War 2.0 policy continues in a most deadly fashion and whether they know it or not, the Ukrainian civilian population in the middle has suffered greatly from this ideological crusade."
In addition to the documentary about the Ukrainian coup, Stone is currently working on a film about NSA whistleblower Edward Snowden, who was granted asylum in Russia after exposing the practice of mass electronic surveillance by the US and its allies.
Snowden became stranded in transit at a Moscow airport as his passport was revoked and he couldn't continue his journey to Latin America. The US wants to try him for his actions, but for many human rights activists and privacy advocates he is a heroic hero, who is being persecuted for revealing a government's dirty secrets.