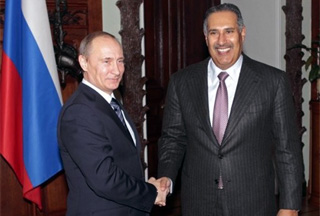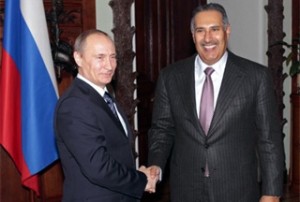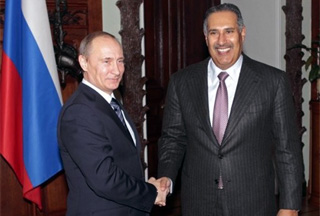 Qatari Prime Minister and Foreign Minister Sheik Hamad bin Jassim Al Thani says Iran's nuclear issue can only be solved through diplomacy and dialogue.
"Iran's nuclear issue should be solved through dialogue," the Qatari top diplomat said in his speech in Moscow on Wednesday.
"Qatar has very good ties with the Islamic Republic of Iran and also the Western countries," he added.
"We believe that no sanctions should be imposed against Iran because it is a major power and a key player in the [Middle East] region," IRNA quoted the Qatari prime minister as saying.
"We hope that a just solution will be found for Iran's nuclear issue so that Iran's right to use nuclear energy for peaceful purposes will be respected," he added.
Sheik Hamad bin Jassim Al Thani discussed regional and international issues in meetings with Russia President Dmitry Medvedev and Prime Minister Vladimir Putin on Wednesday.