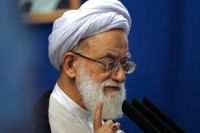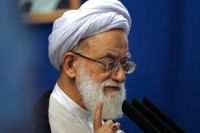 Tehran's interim Friday prayer leader, Ayatollah Mohammad Emami Kashani said that the oppression by the hegemonic system against world nations led to the Islamic Awakening in the region as well as other parts of the world and its continuation requires material and spiritual support.
He underlined that Islam is the only way of running world affairs and saving humanity from tyranny and oppression adding that there are certain elements that seek to divert the trend of Islamic Awakening and they will definitely fail since the Awakening is further spreading.
He said that the West seeks to carry out its sinister schemes in the region reiterating that one can nullify these schemes through the progress of science and industry.
Referring to Iran's progress in the fields of science, industry and technology, he underscored that such progress must continue as emphasized by the Leader of the Islamic Revolution in order to nullify the enemies' plots against the Iranian nation.
He also said that efforts must be made in order to eliminate the problems faced by the Syrian and Palestinian nations.
He also congratulated world Muslims on the occasion of the birth anniversary of Imam Musa Kazem (Peace be upon him) stressing that the world of Islam must be proud of such prominent personalities.