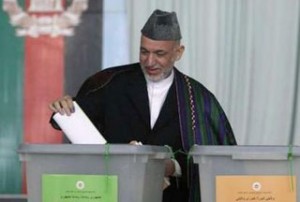 More than 50 people have been killed throughout Afghanistan, as voters went to the polls to elect a new president to lead the country out of militant-related violence.
Nine policemen and nine civilians died and 14 law officers and 13 other people were wounded in the polling violence on Thursday, Interior Minister Hanif Atmar said, DPA reported.
In addition, eight soldiers were killed and 25 others were wounded, according to Defense Minister Abdul Rahim Wardak. Four suicide bombers also died during the day.
In the northern province of Baghlan, 21 Taliban fighters and a district police chief were killed during a series of clashes, a police spokesman said.
Around 300,000 security personnel, a third of them NATO and US-led troops, were deployed to protect the polling after the Taliban threatened attacks.
After the polls closed, the incumbent Afghan President who is running for a second term, hailed the turnout, saying those who cast their ballot displayed great bravery.
He blamed the lower-than-expected turnout on the attacks that rocked Afghanistan mostly in the early hours of voting.