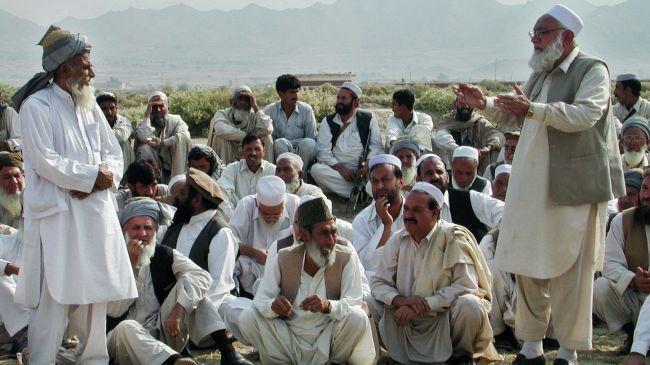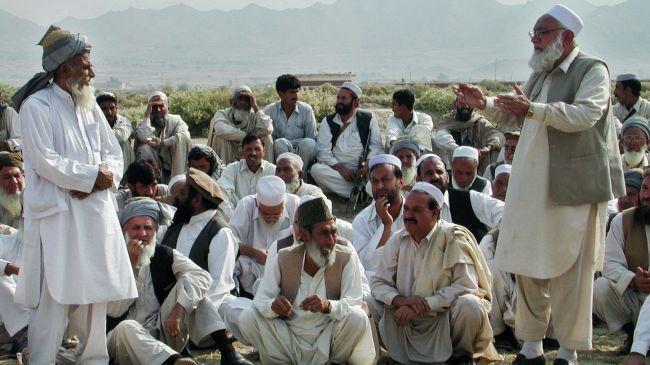 A large number of Pakistani tribal elders, known as the jirga, have strongly condemned US assassination drone strikes on the country's tribal areas, calling on the government to adopt measures to halt the attacks.
"Today's jirga has registered its condemnation of drone attacks, and has agreed that the drone strikes are an attempt to sabotage peace efforts in FATA [Federally Administered Tribal Areas]. The government should take effective steps to put an end to the drone attacks," said Maulana Fazal-ur-Rehman, the chief of the Jamiat Ulema-e-Islam (JUI-F) party, which convened the meeting, on Thursday.
"A process was about to start for establishing peace in this region, but it was brought to a halt by the US drone attack. It is true that the present Taliban leadership is new, and there is a definite change in the set-up. But basically they are the same people, they are the same Taliban, who had given their approval for the peace process," said Ashraf Ali, an elder from Lakki Marwat.
On November 1, a US drone strike killed Tehrik-i-Taliban Pakistan (TTP) chief Hakimullah Mehsud, hours before his meeting with a high-ranking Pakistani delegation to start peace talks.
Several Pakistani politicians have accused the US of using the drone strikes to frustrate Islamabad's peace efforts.
On November 2, Pakistani Interior Minister Chaudhry Nisar Ali Khan said the US drone strike that eliminated Mehsud was a conspiracy to sabotage peace talks with the TTP and Islamabad would review its ties with Washington.
"The government of Pakistan does not see this drone attack as an attack on an individual, but as an attack on the peace process," Khan said.
"This is not just the killing of one person, it's the death of all peace efforts," the minister added.
The United States says the CIA-run drone strikes primarily kill Taliban militants who threaten the US-led international forces in neighboring Afghanistan, although casualty figures show that Pakistani civilians are often the victims of the non-UN-sanctioned attacks.
The slaughter of Pakistani civilians, including women and children, in US drone strikes has strained relations between Islamabad and Washington, and Pakistani officials have complained to the US administration on numerous occasions.
In September 2012, a report by the Stanford Law School and the New York University School of Law gave an alarming account of the effect that assassination drone strikes have on ordinary people in Pakistan's tribal areas.
"The number of 'high-level' targets killed as a percentage of total casualties is extremely low — estimated at just 2 percent," the report noted.