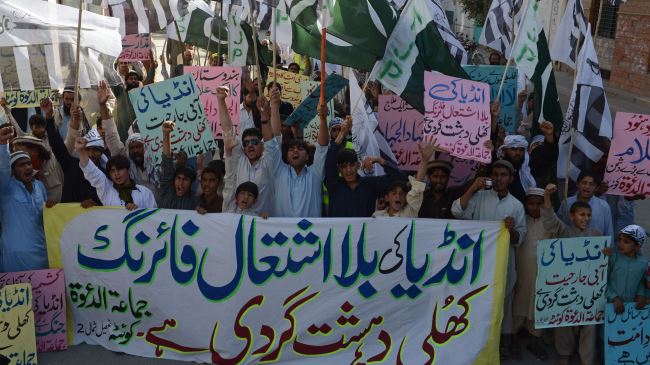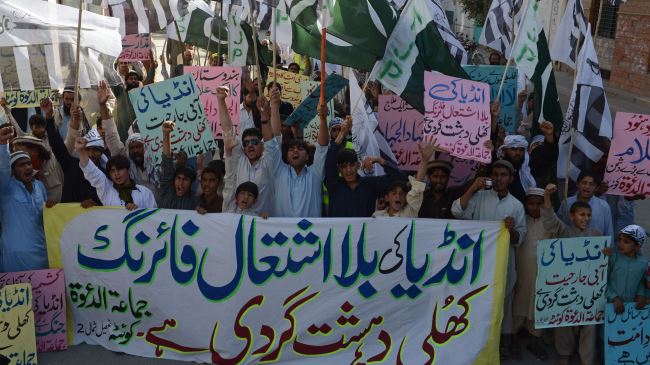 Protesters have held a rally in the Pakistani-administered Kashmir, urging India to put a halt to the recent cross-border firing in the violence-ravaged region.
On Wednesday, the protesters held an anti-Indian demonstration in a village near the borderline in the disputed region of Kashmir.
The demonstrators blamed India for the recent escalation of tension in Kashmir and shouted "we want freedom" and "go India, go back".
They also urged the Pakistani army to give a strong response to what they called Indian aggression.
"We would say to Raheel Sharif (Pakistan's army chief) that if they (the Indian army) fire one mortar shell, in reply, we should fire a thousand mortar shells. If there is lack of resources, then God willing we have the resources and availability to reply harshly, with more than mortar shells," said a Pakistani cleric during the rally.
Earlier this month, United Nations Secretary General Ban Ki-moon expressed concern over Kashmir clashes, calling on both sides to resolve the hostility through negotiation.
The Indian and Pakistani military forces began exchanging gunfire and mortar shells in Kashmir on October 3. Each side has blamed the other for initiating the violence, saying it has just retaliated.
The worst spell of violence in the disputed region in years has so far claimed the lives of around 20 civilians from both sides and injured dozens of others.
Kashmir lies at the heart of almost 67 years of hostility between India and Pakistan. Both neighbors claim the region in full but have partial control over it. Thousands of people have been killed in Kashmir over the past 25 years.