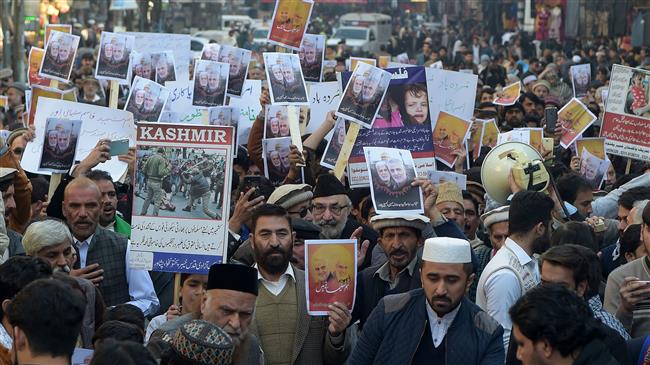 Pakistanis have taken to the streets in the northwestern city of Peshawar to protest the US assassination of top Iranian General Qassem Soleimani.
The protesters held portraits of Gen. Soleimani as they rallied, chanting slogans against the United States and Israel. An effigy of US President Donald Trump was set on fire.
They also called on the Pakistani government to clarify its position on US-Iran tensions.
The Pakistani Ministry of Foreign Affairs has issued a statement saying that Pakistan will not "let its soil be used against any other state," and will not become part of "any regional conflict."
Pakistan's Prime Minister Imran Khan has also directed his Foreign Minister Shah Mehmood Qureshi to visit Iran, Saudi Arabia and the United States as part of Islamabad's efforts to defuse increasing tensions in the region.
On January 3, the US assassinated General Soleimani, the commander of the Quds Force of the Islamic Revolution Guards Corps (IRGC), and Abu Mahdi al-Muhandis, the deputy chief of the Iraqi pro-government Popular Mobilization Units (PMU), near Baghdad airport.
The Pentagon said Trump directly ordered the US military to assassinate the top Iranian commander.
The assassination prompted Iran to take revenge by pouring more than a dozen ballistic missiles on two military bases housing US troops in Iraq early on Wednesday.
Both commanders were admired for eliminating the US-sponsored Daesh terrorists in the region. General Soleimani, in particular, was an international figure who played a leading role in promoting peace and security in the region, particularly in Iraq and Syria.
The US assassination of Gen. Soleimani and his comrades has led to large anti-American protests across Iran and Iraq. Protests were also held in countries across the region and other parts of the world.
Earlier, protesters across Indian-administered Kashmir poured onto the streets to condemn the deadly US airstrike.