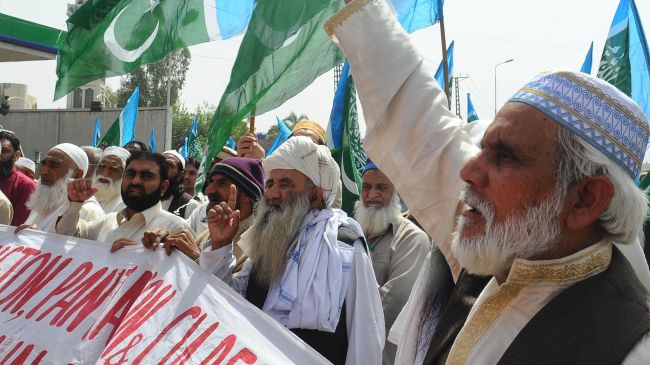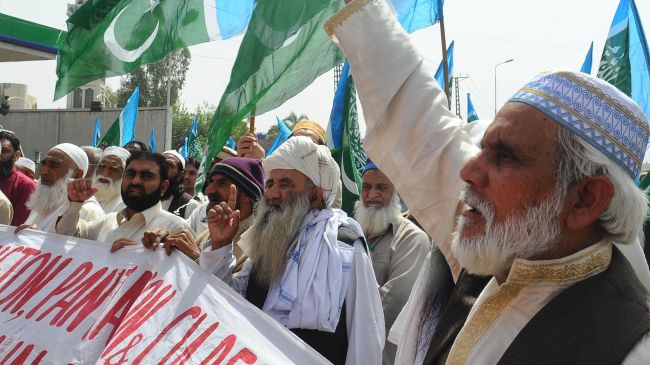 Thousands of Pakistanis have rallied across the country against the possible reopening of supply routes for the US-led foreign troops in Afghanistan, Press TV reports.
People poured onto the streets in the major cities of Karachi, Lahore and Faisalabad on Friday in anti-US and NATO protest rallies organized by Pakistan's largest politico-religious party, Jamat-e-Islami (JI).
The crowds chanted slogans against the US-led foreign forces in Afghanistan and denounced people collaborating with them as traitors.
The latest show of anger comes days after a meeting between high-ranking Pakistani officials to discuss ways to normalize the relations with the US-led forces in Afghanistan and restore the supply routes.
In Faisalabad, JI chief Munawar Hassan warned President Asif Ali Zardari's administration over the restoration of NATO supply routes and accused his government of record corruption in the country.
The party's Karachi chief, Muhammad Hussain Mahenti, denounced Islamabad's decision to restore the supply network to the US-led coalition forces for humiliating the Muslims across the world.
Addressing large crowds of protesters in the southern port city, he warned that any attempt to reopen NATO supply routes would not be tolerated, and parliament would be besieged by the people.
Passing a resolution in the parliament for restoring the supply lines of the NATO forces from the country would mean that the lawmakers have consented to US ambitions for attacking the country, he stated.
Mahenti accused the US of killing Muslims across the world under the pretext of 9/11 attacks, and urged the Pakistani government to extricate itself from the so-called US-led war on terror.
Earlier, Jamat-e-Islami and an alliance of some opposition parties, Difa-e-Pakistan Council, had warned Islamabad against allowing the supply lines to be reopened.
In November, Islamabad closed the routes after an unauthorized US airstrike killed over 24 Pakistani soldiers near the Afghan border. Pakistan also shut the southwestern Shamsi airbase to the US forces.
Anti-US sentiments are soaring in Pakistan over the CIA-run assassination drone attacks in northwestern tribal regions, which have killed large numbers of civilians.