Palestine
Middle East
North America
Palestinian fate rests on 'stubborn resistance' in face of 'israeli' atrocities: US author
An American academic and author has blasted the Israeli regime's recent atrocities against Palestinians in the holy al-Aqsa Mosque, insisting that their fate will rest on the continued and "stubborn resistance" of the people.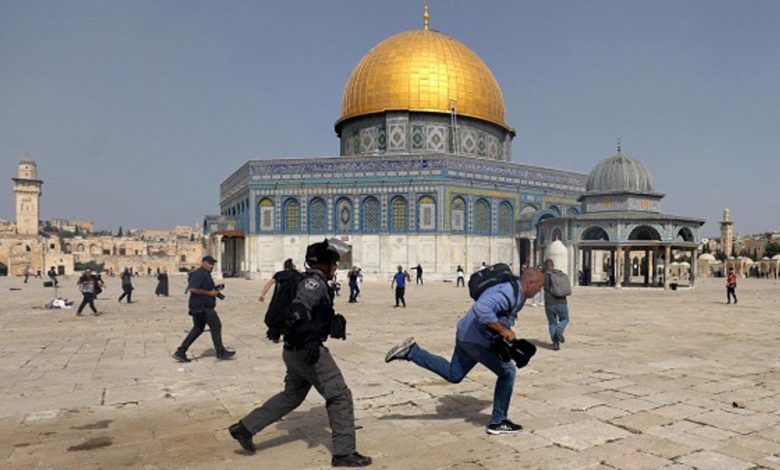 "The fate of the Palestinian people continues to rest where it has always been — on the stubborn resistance of the Palestinian people and the mobilization of global solidarity campaigns and civil society activism," said Princeton University Professor of International Law Richard Anderson Falk in a Press TV interview on Wednesday.
Falk further censured the silence and inaction of the United Nations and most governments towards the Palestinian struggle against the brutal Israeli occupation, pointing out that "the Palestinians have shown over and over again that they will not cease their resistance" nor allow people of conscience across the globe "to turn away from the persisting challenge to unite once more against apartheid."
Pointing to the escalation of the Israeli regime's cruel violence against Palestinian worshipers in and around al-Aqsa Mosque during the holy month of Ramadan, he went on to state that Tel Aviv "deliberately heightened" tensions within and surrounding the holy compound by increasing the Israeli military presence, adding that the move "was intended to intimidate worshipers, and make clear the abusive hierarchy of relations that has long existed between Israelis and Palestinians."
The wounding of more than 150 al-Aqsa worshipers and the arrest of several hundred others at the compound and throughout Palestinian territories should be seen for what it was, "a provocative crackdown," he further emphasized.
The remarks came as the regime's military forces stormed the al-Aqsa Mosque in the occupied Old City of al-Quds for the third consecutive day on Tuesday, assaulting Muslim worshipers inside prayer halls and blockading their entry while clearing the way for extremist Israeli settlers to enter the holy site to mark a Jewish holiday.
Falk, who also serves as the chairman of the Board of Trustees at the Euro-Mediterranean Human Rights Monitor, further noted that the Israeli regime is "partly taking advantage of the distraction" by many governments and international media "resulting from a preoccupation with the Ukraine War and its spillover effects."
"Israel has consistently violated international law with no adverse consequences," he said, noting, "Its conduct at al-Aqsa and elsewhere is all part of a deeply ingrained pattern of official behavior that reflects the fundamental character of Israel as an apartheid state."
The American professor also explained that house demolitions and the destruction of Palestinian farms and olive gardens "has been Israeli official policy for decades, making claims of being the only democracy in the Middle East a travesty."
"This assessment of apartheid," he stressed, "has been supported during the last five years by a series of well-evidenced and carefully analyzed reports prepared by mainstream NGOs in the West."
Falk said that even this development, which he said "should have sent shock waves" at the UN and among supporters of the occupying regime, "resulted in no discernible impacts at the UN or among governments."
"Even the international discourse on the Palestinian-Israel interaction makes scant effort to notice — much less take action in response to — Israel's flagrant and repeated violations of the fundamental rights of the Palestinian people."
The Israeli regime, according to Falk, "has made clear that it is not interested in a political compromise with the Palestinians or any sort of diplomatic process that contains any expectations that a Palestinian state could emerge."
As for the purported human rights defenders, he added, "their weakness to contest Israeli security policies has long been an operative part of the tragic Palestinian reality ever since 1967, although we should salute the bravery of those that take risks to protest Israel's abusive behavior."