Palestine
Palestinians clash with Israeli forces in West Bank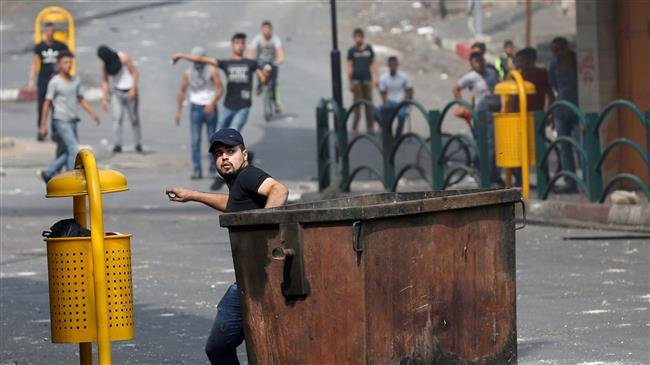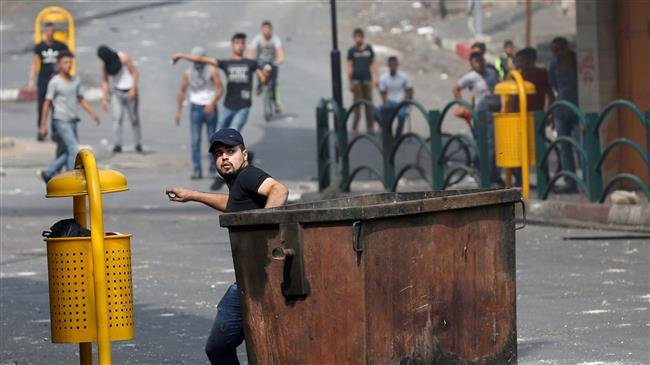 Dozens of people have sustained injuries when Palestinians engaged in clashes with Israeli military forces across the West Bank in protest against the passage of a controversial law in the Israeli parliament, which defines the occupied territories as the so-called nation-state of the Jewish people.
A group of young Palestinian men converged at the northern entrance of the central West Bank city of Ramallah, located 10 kilometers (6 miles) north of Jerusalem al-Quds, setting tires on fire and throwing rocks at Israeli forces.
Israeli soldiers, in return, fired rubber-coated steel bullets, tear gas canisters and sound bombs to disperse the protesters.
Local sources, requesting anonymity, said three people, including a journalist, were struck with rubber bullets while scores of others suffered tear gas inhalation.
Moreover, ten Palestinians suffered breathing difficulties as Israeli soldiers hurled tear gas canisters at protesters in al-Eizariya town, which lies in Area C of the West Bank, and Abu Dis village.
Israeli forces also raided Jabel Mukaber neighborhood in the southern part of East Jerusalem al-Quds, prompting scuffles with local residents. There were no immediate reports of injuries.
Skirmishes also broke out in the northern West Bank cities of Qalqilya and Nablus, during which Israeli soldiers fired live bullets and sound bombs. No injuries have been reported as of yet.
The occupied West Bank and besieged Gaza Strip witnessed a general strike on Monday in protest at the recently passed nation-state law.
The strike was called for by Palestinian national and Islamic factions.
The apartheid 'Jewish nation-state' law, adopted by 62 votes to 55 on July 19, makes Hebrew Israel's official language and defines the establishment of settlements as being in the Tel Aviv regime's interest.
The legislation also strips Arabic of its designation as an official language, downgrading it to a "special status" that enables its continued use within Israeli institutions.
It stipulates that "Israel is the historic homeland of the Jewish people and they have an exclusive right to national self-determination in it". It also states that an undivided Jerusalem is the "capital" of Israel.
Palestinian President Mahmoud Abbas has condemned the Israeli law, saying it "will not change the historical situation of Jerusalem al-Quds as the capital of the occupied State of Palestine."
"No peace or security will prevail unless the city remains as such," Palestinian Wafa news agency quoted Abbas as saying in a statement.
The statement added that "the law will not discourage Palestinians from their legitimate struggle to defeat the occupation and establish their independent state."
Palestine Liberation Organization Secretary General Saeb Erekat also took to Twitter to censure the law, saying the bill "officially legalizes apartheid and legally defines Israel as an apartheid system."
"[It is] a dangerous and racist law par excellence. It denies the Arab citizens their right to self-determination to instead be determined by the Jewish population," he said.