Iran
North America
Parliament speaker Qalibaf: Muslim states should not comply with US sanctions against Iran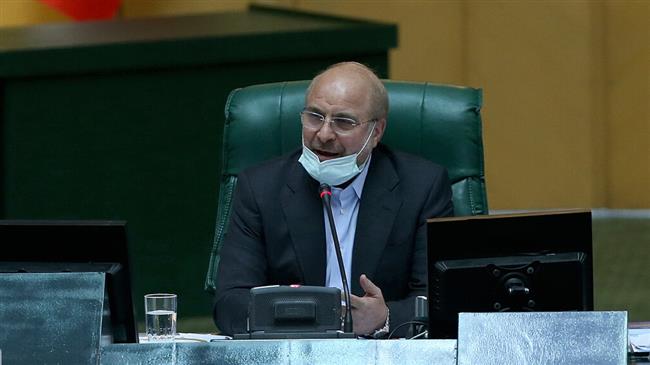 Iran's Parliament speaker has called on Muslim governments to avoid following suit with the unilateral sanctions imposed by the United States against Iran in these times of the coronavirus pandemic.
"In the current situation where everyone is grappling with the crisis of the coronavirus pandemic, the US regime has imposed cruel and illegal sanctions against the Iranian nation, which we expect the friendly and Muslim countries not to comply with," said Mohammad Baqer Qalibaf in a phone conversation on Monday with Azhar Azizan Harun, speaker of Malaysia's House of Representatives.
Pointing to the need to enhance unity among Muslim countries, Qalibaf said, "Iran and Malaysia, as two important countries in the Muslim world, should expand cooperation to bolster solidarity among Muslim nations and avoid division."
The Malaysian parliamentarian, for his part, referred to the US sanctions against Iran, saying, "Malaysia still holds its position regarding the sanctions, and we do not recognize illegal bans, which are not in compliance with the United Nations' resolutions."
Harun added that efforts made to unify Muslim nations form a major part of the cooperation between Tehran and Kuala Lumpur.
"Iran and Malaysia have invariably been trying to strengthen the unity of the Islamic Ummah, particularly given that bolstering unity among Muslim countries is necessary in the face of challenges."
Washington has been tightening its sanctions against Iran in recent months, defying warnings from Tehran and international human rights organizations that the restrictions are severely hampering the Iranian health sector's fight against coronavirus.
Iran has been fighting with the deadliest pandemic the world has seen in many decades amid the illegal US sanctions, which have seriously complicated efforts to stem the flu-like pathogen.
So far, more than 534,630 Iranians have been infected with COVID-19 in the country. An estimated 31,000 people have died, and 431,360 have recovered.